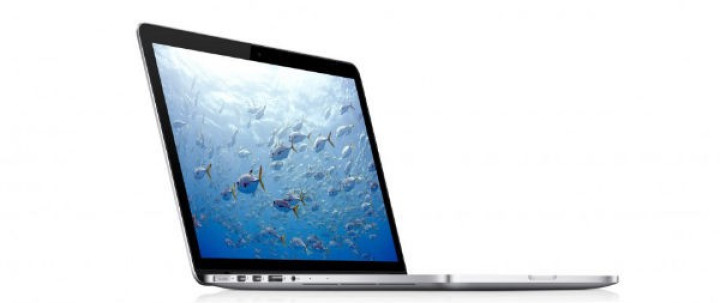 Yesterday, Intel launched new Haswell processors designed for high-end notebooks, which will most probably end up being used in the upcoming 2014 MacBook Pro line-up that is expected to be launched this fall.
According to CPU World, the company has outed three new Core i5 chips and three new Core i7 chips, which are successors to the ones currently used in the 13 and 15-inch Retina MacBook Pros.
However, these new processors offer only modest improvements in performance when compared to their predecessors. They happen to be a mere 200 MHz faster than current Haswell chips.
According to MacRumors: "The Core i7-4770HQ chip at 2.2 GHz is a direct replacement for the Core i7-4750 used in the lower-end 2.0 GHz 15-inch Retina MacBook Pro, while the Core i7-4870HQ chip at 2.5 GHz is a direct replacement for the high-end 15-inch Retina MacBook Pro's existing Core i7-4850 chip at 2.3 GHz. The Core i7-4980HQ chip at 2.8 GHz replaces the high-end build-to-order Core-i7 4960 processor at 2.6 GHz."
And when it comes to the 13-inch Retina MacBook Pros, "the Core-i5 4278U, the Core i5-4308U, and the Core i7-4578U all offer the same 200 MHz jump over the existing Core i5-4258, Core i5-4288, and Core i7-4558 used in the three processors available for the 13-inch Retina MacBook Pro, bringing the low-end up to 2.6 GHz, the mid tier to 2.8 GHz, and the high-end build-to-order option to 3.0 GHz."
As per previous rumours, there won't be any major design changes with the upcoming MacBook Pro 2014 line-up. Combine this with the lack of significant performance boosts and Apple might not give users of the 2013 MacBook Pro enough reasons to upgrade this year.
However, the MacBook Pro line-up will become far more attractive in 2015 when Intel's Broadwell chips become available, prompting the company to offer a major Retina MacBook Pro update.
The MacBook Pro 2014 is expected to launch during October this year, since the the line-up recieved its last refresh during the same month last year. Apart from better processing, the MacBook Pro 2014 will feature a button-less touchpad that utilises force sensors and acuator feedback.
However, this information can't be confirmed until Apple makes its official announcement later during October this year.