Lawmakers in Macedonia were assaulted after more than 200 protesters forced their way into the country's parliament and started a brawl.
Demonstrators from the United Macedonia initiative, some of whom were masked, entered the building protesting the election of an ethnic Albanian Talat Xhaferi as parliamentary speaker.
Television footage showed scuffles, and blood pouring down the face of Social Democrat leader Zoran Zaev. Three other MPs were said to be injured.
The chaotic scenes continued outside with police clashing with protesters in front of the building and firing flash grenades to disperse the crowds.
The protesters were acting in support of ex-prime minister Nikola Gruevski's VMRO party, which is demanding new elections after a ballot in December left the former Yugoslav country gridlocked.
The ethnic tensions have been sparked after the breakdown of coalition talks to form a new government. A sticking point is the demand by the Albanian minority, comprising one quarter of the population, that their tongue be recognised as the official second language.
The parliament, known as the assembly, has been trying to pick a speaker for three weeks. Zaev suggested electing one by bypassing procedures, but tensions boiled over when parliament chose Xhaferi.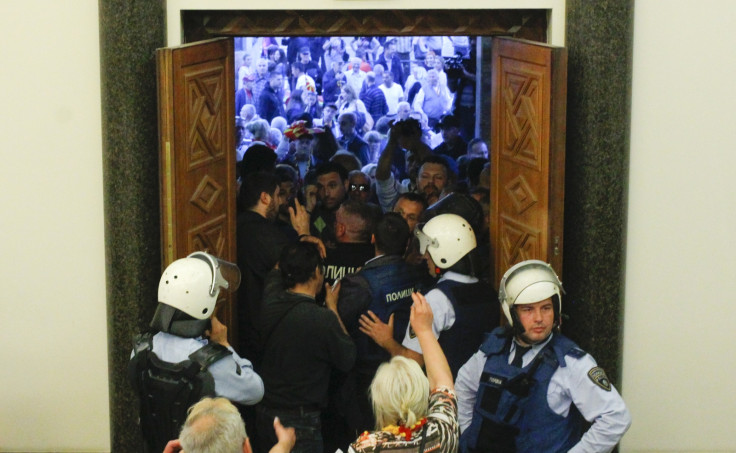 'Sad day for Macedonia'
Artan Grubi of the Albanian Democratic Union for Integration said the violence marked "a sad day for Macedonia", the Associated Press reported.
The country's president, Gjorge Ivanov, has called for calm and summoned the main political parties for a meeting on Friday (28 April).
"Lawmakers are primarily responsible for restoring the situation in accordance to the constitution and laws, which were violated today," he said.
EU's foreign policy chief Federica Mogherini said in a statement: "The acts of violence in the Parliament are wholly unacceptable." Meanwhile, the European Union enlargement commissioner, Johannes Hahn, said in a tweet: "Violence has NO place in parliament. Democracy must run its course."