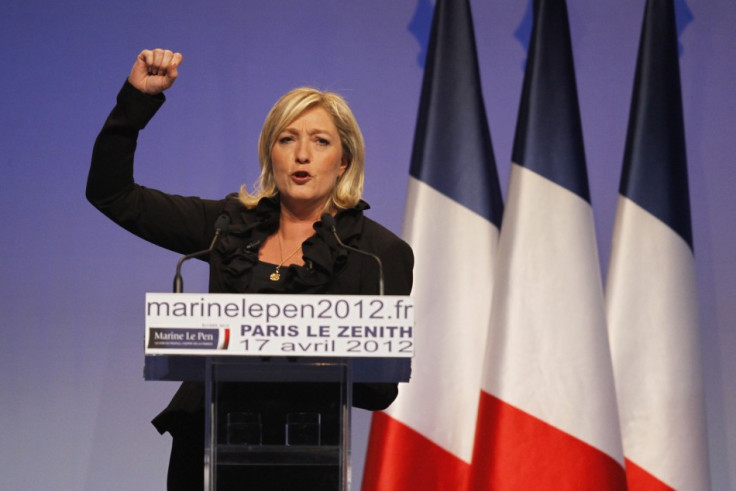 Did the swastika overlay the wrong image seen during performances by Madonna on her current world tour? Surely it wasn't meant that the face of Marine Le Pen, President of France's Front National Party, be portrayed with this vile symbol but that of Russian, Yevgeny Nikitin who has done the "decent thing" and withdrawn from this year's Bayreuth Opera Festival. Mr Nikitin was to play the Dutchman in The Flying Dutchman, the music and libretto of which was composed by Richard Wagner.
Unfortunately for the 38-year-old bass-baratone from the St Petersburg Mariinsky Theatre, someone has unearthed and aired film from his youthful past when he was a drummer in a heavy metal group. It shows him bare-chested, part copied by Madonna at concerts in Istanbul and Paris, but unlike Madonna, with an unmistakable swastika tattoo emblazoned thereon. Although the offending tattoo has been apparently removed and replaced by another, such is the actual or potential opprobrium, that Mr Nikitin had to be replaced last Saturday, 21 July. His understudy, Samuel Youn from Korea, is taking his place.
To be publicly branded a Nazi can have serious consequences even for one-time Russian head-bangers, now a presumably more mature, worldly-wise and reformed opera singer. If the aspersion is made against a well-known politician, who also happens to be a lawyer by profession, and shown to be untrue, even if a court action does not follow, the victim is likely at the very least to gain the sympathy of the "reasonable" observer and possibly their future electoral support. This, the very opposite of Madonna's intention.
Madonna kicked off her MDNA Tour, her ninth world concert tour, on 31 May 2012 in Tel Aviv. Appearing on a giant screen during the singer's performance of a number called Nobody Knows Me was Marine Le Pen with a swastika on her forehead and this quickly morphed with the addition of a toothbrush moustache and a change in the eyes into a Hitler lookalike flanked by Iron Crosses. This clearly implied most publicly, that in Ms Ciccone's opinion, Ms Le Pen and by extension her Party and supporters, are Nazi too.
By Monday 04 June the news had reached a highly incensed Ms Le Pen and supporters with Party lawyer, Wallerand de Saint-Just confirming to the media that if the same stunt was repeated in France then he would definitely consider the possibility of legal action. Heedless of the warning, on 14 July, Bastille Day, at the Stade de France in St Denis outside Paris, Madonna obliged and repeated the same offending, big screen images. On 16 July, The Guardian reported: "Marine Le Pen's Front National party to sue Madonna."
Vice President of the Front National, Florian Philippot speaking to Le Monde said that a civil libel action is to be lodged (this) week before the High Court in Bobigny, whose jurisdiction covers the Stade de France.
Which party is in the right? Can Marine Le Pen reasonably defend herself and Party from a charge of being Nazis when often, she and her supporters are deemed to be "extreme" Right? Can Madonna justify her portrayal or did she merely assume Ms Le Pen was like her father, Jean-Marie Le Pen and that the Front National hadn't changed under the daughter's leadership? Could it be a misunderstanding in translation of "Far Right" as "Extrême Droite"?
There is no doubt that the Front National as set up by Jean-Marie Le Pen in 1972 was a party of the far Right and if Madonna had shown his image on that big screen it is most unlikely that she (or her representative) would be taken to book. The Front National is without doubt to the right of the main right-wing party, the UMP (Union for a Popular Movement) but Ms Le Pen has very publicly repudiated many of the views expressed by her father and has pulled the Party quite some ways towards the Centre so that now, in france, just over a majority think of it as an "ordinary" party - that is main-stream and not extreme - and Ms Le Pen thinks that she shares many of the views of UKIP in Great Britain.
Whatever the legal outcome, it is unlikely to phase Madonna. On her eighth world tour the lady grossed over $400 million, a record for a single artist and it is anticipated that the MDNA singalong could gross some $450 million, which will set a new record. But no matter how rich you are or how much you dislike someone's politics, if the jibe's unfair the swastika should come off.