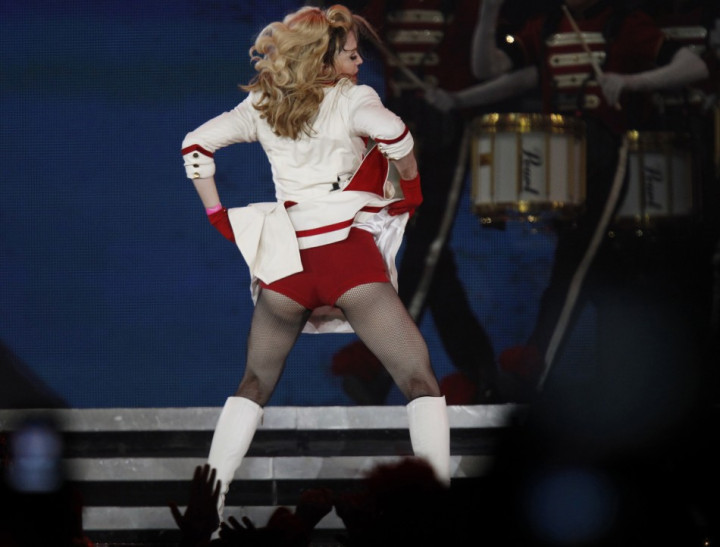 Just days after voicing her support for jailed punk protesters Pussy Riot, pop star Madonna has spoken out in favour of another cause - gay rights.
Madonna, who is touring Russia, told a concert audience in St Petersburg, to "show your love and appreciation to the gay community".
"We want to fight for the right to be free," she told the urging the pink wristband-wearing fans.
The St Petersburg city government recently passed legislation - dubbed a "ridiculous atrocity" by Madonna - which imposes fines for spreading "homosexual propaganda" that could "damage the health, moral and spiritual development" of minors.
According to St Petersburg police chief Sergei Umnov, 74 people have been fined under the legislation to date.
Civil rights activists say the law could be used to halt gay rights demonstrations and thus oppress the LGBT community. Although homosexuality was decriminalised in Russia in 1993, prejudice against it remains high across the country.
Madonna's move, however, did not attract universal support from Russia's LGBT community. Activists staged a picket outside the concert venue, one holding a placard which read "I do not care about Madonna and her support".
Picket Yuri Gavrikov said: "One should not mix showbusiness with human rights activism. If she [Madonna] wanted to support the LGBT community, she could have refused to hold concerts in Russia."
Madonna has already stirred controversy in Russia by voicing public support for Pussy Riot, whose members are on trial in Moscow on blasphemy charges.
Russian state prosecutors have demanded that Pussy Riot's Nadezhda Tolokonnikova, Yekaterina Samutsevich and Maria Alyokhina should be jailed for three years for their controversial "punk prayer" protest against President Vladimir Putin at Moscow's Christ the Saviour Cathedral.
During a concert in Moscow, Madonna, who has been cited as an inspiration for the band, appealed for leniency.
Her provocative support of gay rights in Russia came in the wake of deputy prime minister Dmitry Rogozin calling her a moralising "slut" for supporting Pussy Riot.