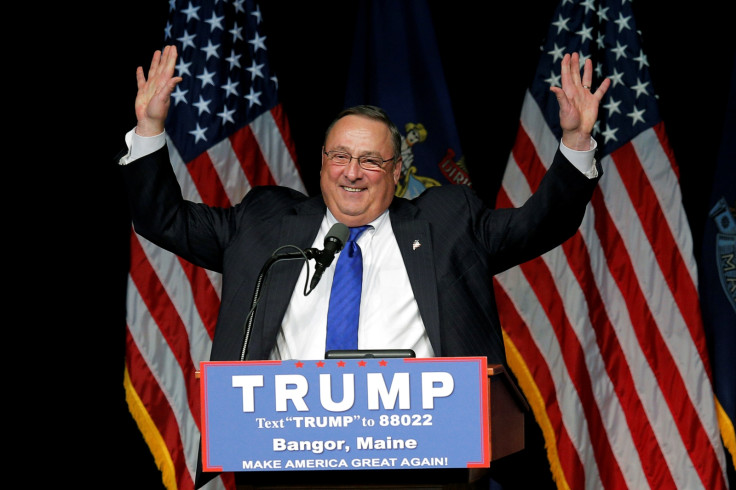 Maine Governor Paul LePage has apologised to a Democratic lawmaker in his state after leaving an obscene voicemail last week. LePage, who considered resigning amid intense backlash, stood by his remarks and vowed to never speak to the press again.
The Republican governor left an offensive voicemail for Democratic Maine Representative Drew Gattine after being told by a reporter that Gattine had called him racist. "I want you to prove I'm racist. I've spent my life helping black people and you little son of a b***h, socialist c********r," he said, according to a transcript by NPR. "...I am after you."
LePage then told a reporter from the Portland Press Herald that he wished the two men could solve their argument in an armed duel.
"When a snot-nosed little guy from Westbrook calls me a racist, now I'd like him to come up here, because, tell you right now, I wish it were 1825," LePage said. "And we would have a duel, that's how angry I am, and I would not put my gun in the air, I guarantee you, I would not be (Alexander) Hamilton. I would point it right between his eyes, because he is a snot-nosed little runt and he has not done a damn thing since he's been in this Legislature to help the state move forward."
NPR reported that LePage has on several occasions attributed Maine's drug problem to people of colour coming into the state to sell drugs. In response, Gattine has referred to those remarks as racially charged and unhelpful.
Since LePage's tirade, he has apologised to Gattine and made a point to note the lawmaker had used the words "racially charged" instead of "racist". In a press conference on Wednesday (31 August), LePage said: "Maybe in my mind it is semantics, but in his mind, after talking to him it was clear that there was a real difference."
LePage also apologised to the people of Maine, NPR reported. "I have never met a person who's been perfect and not made a mistake and, ah, hopefully the people of Maine will say, 'OK, we'll forgive you this time and you clean up your act and let's move forward,'" he said in a radio broadcast on Tuesday (30 August).
The Republican governor doubled back on a suggestion that he would resign, stating, "I will not resign" on Wednesday.
However, according to USA Today, LePage has blamed the media for the situation with Gattine. He then told the press just how he would avoid similar incidents in the future. "I will no longer speak to the press every again after today," he said. "And I'm serious. Everything will be put in writing. I am tired of being caught—the gotcha moments."