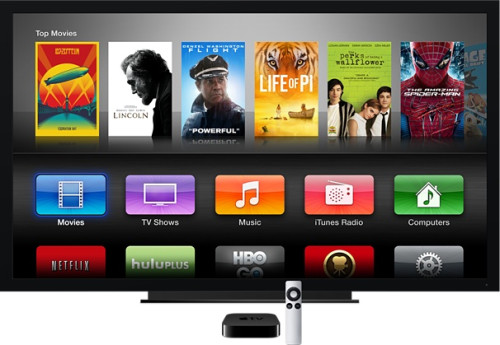 A major update for the Apple TV set-top box is imminent, as the iPhone maker gives the device formerly described as a "hobby" its own dedicated section on Apple's website.
Previously buried in the iPod section of Apple's online store, Apple TV now has its own page, and is thought it be receiving a major hardware update soon, with gaming and TV integration its headline features.
The often well-informed 9to5Mac reports a soon-to-be-announced Apple TV could combine its hardware with that of Apple's AirPort Express router, letting users play games on their television using iOS devices as controllers, and place an Apple-designed interface over the user's existing television service.
Television overlay
This last feature would see the Apple TV offer a similar experience to the Xbox One game console, where a user connects their existing satellite or cable television box to the Apple TV, which would take control of channel-changes and place its own interface over the top.
Combining the Apple TV and AirPort Express would give an all-in-one solution to customers looking for a media player and router in one, while a faster and more stable connection between the internet and content playing on the Apple TV would be achieved, as currently users might have the two devices at opposite ends of their homes.
9to5Mac speculates: "Putting everything in one box could make the overall experience simpler, while allowing the router to deliver peak video performance for the Apple TV and de-prioritising other wireless traffic as necessary."
Big-screen iPhone gaming
Sources speaking to the website also claim the next Apple TV will have access to the App Store - or a new 'Game Store' - letting users download games and control them on their television using the iPhone, iPad or iPod touch.
The site added: "We are led to believe that the new device, which is said to be a set-top box rather than a full-fledged TV set, will likely be introduced in the first half of 2014. We understand that the product will include a revamped operating system that will be based on iOS.... [Apple] has definitely considered allowing users of the current-generation Apple TV to update to the new software."
Apple is yet to say anything official on an updated Apple TV, or the often-speculated television the company is claimed to be working on. During first-quarter financial results earlier this week, CEO Tim Cook reiterated his promise for "major new products" this year.