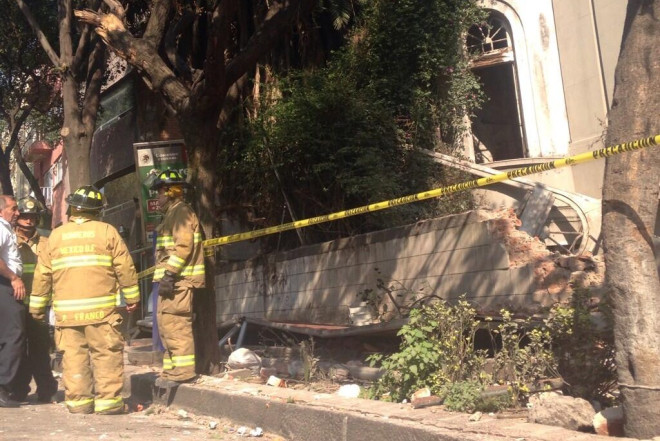 A major earthquake has shaken Mexico City. The US Geological Survey (USGS) says the quake, of magnitude 7.2, was centred north of the Pacific resort of Acapulco in Tecpan, Guerrero. The tremor was felt across central and southern Mexico.
"There is a crisis of panic," Alicia Dominguez of the civil protection office told the Associated Press. "It's mainly the tourists who are shaken."
People in high-rise apartments took to the streets, where they could be seen, still in bathrobes and pajamas, talking to relatives on their mobile phones.
"I started to hear the walls creak and I said, 'Let's go,'" said Rodolfo Duarte, 32, who fled his third-floor apartment.
"This is really strong," said Gabriel Alejandro Hernandez Chavez, an apartment building guard in Mexico City. "And I'm accustomed to earthquakes."
In Mexico City, with a population of around 20 million one of the world's largest cities, buildings were reported as swaying as people fled to the street, but as yet there are no reports of any casualties or serious damage. The U.S. Pacific Warning Center said they don't believe a tsunami will be generated.
BBC reporter Will Grant in Mexico City said there was a sense of panic when the earthquake struck as people ran to the streets, but that the city was relatively empty due to the fact it was the Good Friday holiday.
"There are some broken windows, but so far we have no dead or injured," said Ricardo de la Cruz, director general of the Civil Protection Agency.
In 1985 around 6,000 people were killed in a quake which shook the city, but that was an 8.1 magnitude, far higher than today's tremor - which also took place at a greater depth, meaning damage was less severe.
In recent weeks a number of earthquakes have occurred around the Pacific Rim, or so-called "Ring of Fire", as far apart as California, the Solomon Islands and Chile. Mexico citizens have been warned after-shocks may continue.