Global oil prices are unlikely to experience a major shock in the near future despite continuing violence in Iraq, says Standard Life.
In a market briefing report for investors, the financial firm said that even if the political situation continues to diminish Iraqi oil production is unlikely to be damaged further.
"After a period of unusual calm in global oil markets, the benchmark ICE Brent oil spot price spiked to just under $116 per barrel (bbl) late last week, its highest level since September last year," said analysts in a statement.
"The trigger was the deteriorating political situation in Iraq, with the militant Islamic group Isis gaining territory in the north of the country.
"At around 3 million barrels per day (b/d), Iraq is currently the second largest oil producer in Opec, so any significant disruptions to supply in the region would have severe consequences for oil prices and hence the global economy. Fortunately, most of Iraq's oil is produced in the south of the country, where the Shia majority remains in power. Therefore, a major oil price shock seems unlikely for now."
Oil prices have become volatile over the last month as Islamist rebels, fighting against the Iraqi government, have not only enacted widespread violence but have also taken over some major oil refineries.
Iraqi oil exports data suggested supplies remained unaffected by the war in the nation, as exports from the country's southern terminals, where most of the nation's oil is concentrated, averaged 2.53 million b/d as of 21 June 2014.
That reading compared with May's average of 2.58 million b/d - the highest since 2003.
On 24 June, Islamist rebels claimed to have complete control of the key oil refinery in Baiji in the northern province of Salahuddin.
During the day, the Brent August contract was trading at around $114/bbl after shedding 57 cents to $113.55/bbl earlier in the session.
The WTI August contract also traded around 6 cents lower on the day to around $106/bbl.
"If oil prices stabilise at current levels, the impact on the global economy will be modest," said Standard Life.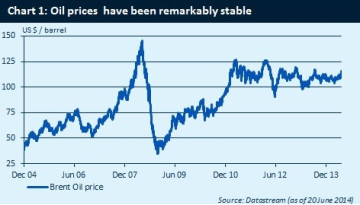 "There will be some short-term upward pressure on consumer prices, but economic growth is unlikely to take much of a hit - the latest empirical evidence suggests that oil prices have to push through multi-year highs before significantly affecting consumers' behaviour. This is because the composition of private spending has already adjusted to previous price spikes."
Despite the unlikelihood of oil prices shooting up further, Standard Life did warn that a massive drop in Iraqi production would be catastrophic.
"However, what would happen if Iraq's oil were to go offline? Then the impact would be severe," said Standard Life.
"Energy analysts think that the loss of Iraqi oil could be enough to send Brent prices through $150/bbl, which would be more than $20/bbl higher than their post-crisis peak (See Chart 1).
"Consumer price inflation rates in many developed countries would more than double, eating into consumers' purchasing power and causing them to cut spending on discretionary items. Oil exporters would of course do well, as their terms of trade improve.
"However, that would not be enough to offset weaker growth in importing countries so global growth would soften. The reactions of policymakers to an oil shock could differ substantially."