A huge treasure trove of medieval coins and jewellery has been unearthed by a university research team at a French abbey.
More than 2,200 medieval silver denier and obol coins were found, largely grouped together in a cloth bag from which there are imprints on some of the pieces. It is believed the coins were mostly issued by former Benedictine monastery Cluny Abbey, where the discovery was made, and date from the first half of the 12th century.
A tanned skin placed in the middle of the silver coins contained a wealth of gold. This included 21 Muslim gold dinars, which were struck between 1121 and 1131 in Spain and Morocco; a golden sigillary ring with an antique intaglio of red representing the bust of a god; and a folded gold leaf weighing 24 grams.
The work was led by Anne Baud, a teacher and researcher at the University of Lyon 2, and Anne Flammin from France's National Center for Scientific Research. They were assisted by a team of nine students and members of the House of the Orient and the Mediterranean Jean Pouilloux. A more in-depth study conducted by PhD student Vincent Borrel is now underway to more precisely date each item.
"This is the first time that this money has been found in such large numbers and that such a treasure brings together, in the same closed set, Arab gold coins, silver money and a sigillary ring," a statement from the university said when the discovery was officially announced on 14 November.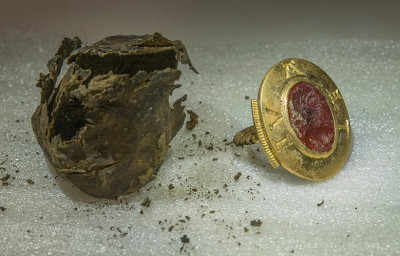 The huge excavation campaign began in mid-September and ended in late October as part of a vast research programme on Cluny Abbey. The abbey was was founded in 910 and was the tallest religious building in Europe for 500 years, until the construction of St Peter's Basilica in Rome.
A number of questions were posed by the university following the treasure discovery. Did the treasure belong to a monk, a dignitary of the church, or perhaps a rich layperson? Where were the Cluniac moneys struck and where did they circulate? Why have dinars which were struck in Spain and Morocco found at Cluny Abbey? Why was the treasure buried and in which built part of the abbey? The research will continue, endeavouring to answer some of these questions.