An Ancient Egyptian mummy with an amazing, well-preserved gold and blue burial mask has been discovered after seven years of excavation work.
The mummy, which has been dated back to the Greco-Roman era (332 BC -395 AD), was found in a good condition and wrapped in linen. A traditional carttonage burial mask of blue and gold covers the head and is decorated with a scene depicting Khebr, pharaonic god of the sky.
The chest is painted with a scene showing Isis, one of the oldest goddesses of Ancient Egypt, while beneath the feet there is a drawing of a white sabot.
Egypt's Ministry of Antiquities announced the discovery, made by an Egyptian-Russian archaeological mission working at the site of Deir al-Banat (Al-Banat Monastery), in the governorate region of Fayoum, on 14 November.
The wooden coffin housing the mummy was found in a very bad condition. It features no inscriptions and its base and lid are broken in several places, suffering from spreading cracks.
Dr Mohamed Abdellatif, assistant of the Minister of Antiquities and head of the Coptic and Islamic Antiquities Sector, said the mission carried out urgent conservation work on both the coffin and mummy before they were transported to a storage area in the region. There, the ancient items will be subjected to more restoration and documentation.
The mission, affiliated with the Russian Institute for Orienta Studies, began its work in the area about seven years ago.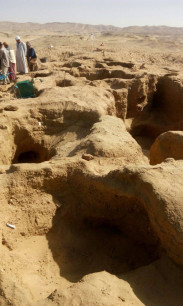 Earlier this month, it was announced that a giant void had been discovered inside the Great Pyramid of Giza. Researchers found a large internal cavity at least 30 metres long above the Grand Gallery – a steeply slanted passageway which connects two other chambers. It is hoped this will enable future discoveries to be made about the pyramid and its construction.