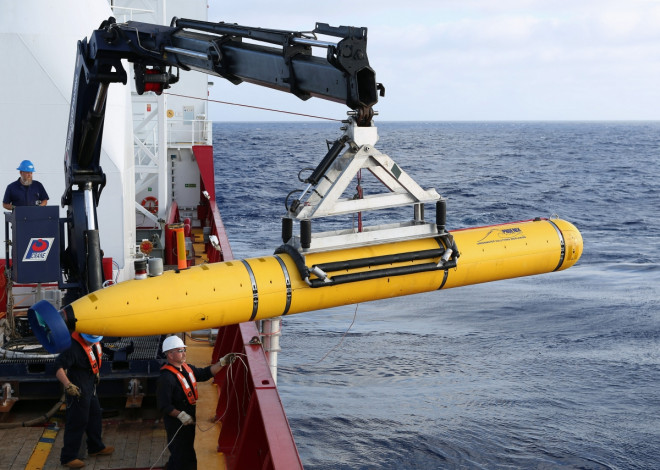 The mini-submarine looking for potential wreckage of the Malaysia Airlines flight MH370 at the bottom of the southern Indian Ocean floor returned after exceeding its 4.5 km (2.79 miles) depth limit, but will make a second attempt at another location, The Star reported.
Earlier, Bluefin-21 explored an area at the extreme end of a 600 sq km (232 sq miles) stretch, where the estimated depth was 4.4 km (2.73 miles) at the maximum.
But the depth was found to be more than 4.5 km, which is the limit at which the submarine can functionally operate.
Now, Bluefin-21 will be sent to scour another area, thought to be much shallower than the one where it previously went.
The unmanned vehicle returned to the surface automatically after it went below its operational limit.
"There's certain abort criteria that the vehicle has as it is executing its mission," US Navy Captain Mark Matthews told CNN from Perth.
"If there are certain conditions that occur, it stops and it comes to the surface. In this case the vehicle's programmed to fly 30m over the floor of the ocean to get a good mapping of what's beneath.
"It went to 4,500m and once it hit that max depth, it said this is deeper that I'm programmed to be, so it aborted the mission."
The search operation will be modified in view of the depth detected at the remote Indian Ocean site.
"It happened in the very far corner of the area it's searching. So they are just shifting the search box a little bit away from that deep water," Matthews said.
An oil slick also had been collected from the area, but it might take some more days before its source can be conclusively established.
The Autonomous Underwater Vehicle (AUV) would again try to search the ocean floor for 16 hours over an area of 40 sq km (15.4 miles) at a time, after a two-hour descent.
The submarine is equipped with side-scanning sonar, and will search for possible wreckage in the vicinity of the location where Ocean Shield had detected four pings consistent with frequencies of the black boxes.
The submarine will build an extensive acoustic image of the area with the help of the sonar, which is the same technology that helped find a crashed F-15 fighter jet off the coast of Japan, according to Reuters.
Downloading the data will take another four hours, after which the high-resolution 3D maps produced by the sub will be analysed.
The previous six-hour excursion was cut short by higher-than-expected depth, but the data is still being analysed.
The search operations hinge on weather conditions, which are prone to getting hostile in this part of the globe. The recent forecast projects isolated thunderstorms which can make the sea swell up to two metres with a visibility range of 5 km (3 miles).