A British company is one of the companies bidding for an Australian government contract to locate the wreckage of missing Malaysia Airlines Flight MH370.
Blue Water Recoveries (BWR), based in Midhurst, West Sussex, has previously worked on the searches for difficult sea wrecks including HMS Hood and DKM Bismarck.
In 2010 BWR company head David Mearns received an honorary Medal of the Order of Australia for helping locate the wreck of two vessels lost during World War II, HMAS Sydney and AHS Centaur.
Mystery still surrounds the whereabouts of Flight MH370 which disappeared on a routine flight between Kuala Lumpur and Beijing on 8 March with 239 people aboard.
The Australian Joint Agency Co-ordination Centre (JACC) has narrowed the search for the wreckage to an area of 20,000 square miles some 1,100 miles west of Perth, WA.
The cost of the search – around £35m – will be met by the Malaysian and Australian governments. The company, or companies, chosen will have just 300 days to find the wreckage. The search is difficult due to the remoteness of the area and depth of the Indian Ocean, which averages three miles in the area. The sea floor is uneven with gullies and crevices, many of them unmapped.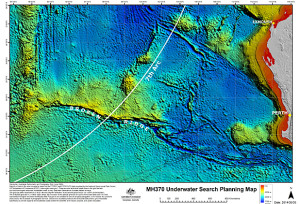 However, the depth and coldness of the water and subsequent lack of animal life means any human remains could be well-preserved, raising the prospect they could be recovered like the bodies from Air France Flight 447, which crashed en route from Rio de Janeiro to Paris in 2009 with the loss of all 228 on board.
Other companies in the running for the prestigious contract include a firm which helped find the Titanic – Houston-based Oceaneering International – Dutch firm Fugro, and Odyssey Marine Exploration.
Whichever company gets the nod will use information supplied by another British company, Inmarsat, which tracked so-called 'data handshakes' and one of its satellites.
The JACC is currently waiting for two ships to finish mapping the area, which will be completed by next month.
On its website the JACC says: "Before the deep-sea search can commence… it is necessary to map the sea floor in this remote region of the Indian Ocean, which until now has been poorly charted. The aim is to identify significant features on the sea floor, which may present a hazard for the deep water vehicles that will be used for the search."