The prime minister of Malaysia, Najib Razak, has been labelled brainless for allowing a witch doctor to help in the hunt for missing Malaysia Airlines flight MH370.
Ibrahim Mat Zin, a famous "bomoh" (witch doctor), performed a prayer at Kuala Lumpur International Airport with coconuts and a "magic stick" to trace the missing aircraft.
Zin, also known as the Raja Bomoh Sedunia Nujum VIP, who plans to return to the airport to perform another prayer, told Free Malaysia Today: "I think the plane is still in the air or has crashed into the sea."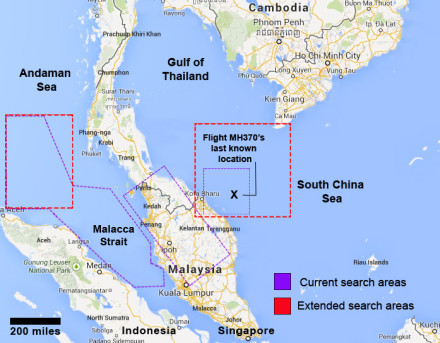 One user of Weibo (the Chinese social media service) wrote: "I feel so ashamed as a Malaysian for the first time, not because of any wrongdoing on Malaysia's part but for having a brainless prime minister.
"Instead of hiring a witch doctor holding two coconuts to be ridiculed, would be better off to do something down-to-earth.
"Stop losing Malaysia's face!"
Another message reposted more than 10,000 times in less than 24 hours read: "In the past few days, Vietnam has cleaned up all the trash on the sea. Whatever Vietnam found, Malaysia shook its head and just said 'NO NO NO'. Out of distrust of Vietnam, it kindly invited a witch doctor to determine the location."
"China deployed 10 satellites, Malaysia deployed a few witch doctors... is this action art?" jeered a third message.
The Raja Bomoh has been performing for 50 years and became famous after offering his services in the search for victims in the Highland Tower tragedy, Kuala Dipang flood and the Mona Fendy murder.
"We use a fish trap hook and a bamboo binocular to search and ask for the victims to be found as soon as possible," the Bomoh said.
Government minister Jamil Khir Baharom earlier said Kuala Lumpur welcomed any help in tracing missing flight MH370.

Meanwhile the Muslim Lawyers Association of Malaysia has called on Malaysian Airlines to introduce Muslim prayers before all flights, as well as for all female flight attendants to be dressed according to Islamic law.
In a statement the group said: "Everything that happens on Earth and in the sky is Allah's decision. We pray that Allah gives us signs and pointers so that the passengers can be found."
FLIGHT MH370 FACTBOX
Flight MH370 took off from Kuala Lumpur International Airport en route to Beijing at 00:41 on Saturday 8 March (16:41 GMT Friday).
About 50 minutes later, the aircraft lost contact with air traffic control.
No distress call was made.
On board, there were 12 Malaysian crew members and 227 passengers from 14 countries. That included 153 Chinese and 38 Malaysians.
Two Iranian male passengers, Pouria Nour Mohammad Mahread and Delavar Syed Mohammad Reza, were travelling on fake passports. Neither had any apparent links to terrorist groups.
No debris from the plane has been found in the international search.
At least 10 countries, including China, the US and Singapore, were using a total of 42 ships and 39 aircraft to search for the missing plane in the South China Sea, the Malacca Strait and the Andaman Sea.