Malaysia has issued a heightened security alert in the country's second biggest state of Sabah after a video showing Filipino terror group Abu Sayyaf pledging allegiance to Isis (now known as the Islamic State) gained in popularity.
The video shows the leader of Abu Sayyaf and one of the world's most wanted terrorists, Isnilon Hapilon, in a black gown surrounded by masked supporters of the group. Hapilon proceeds to declare the group's allegiance to the Islamic State and its "caliph" Abu Bakr al-Baghdadi.
The video, which is believed to have been filmed in the jungles of the southern Philippines across from Sabah in Malaysia, shows the symbol of the Islamic State in its opening scene.
The footage was posted in July but its significance has only started to emerge in recents week with more and more people viewing the video.
It is reported that the video was created in the hope of garnering more support for the Islamic State in southeast Asia, with Hapilon speaking in both Arabic and the regional dialect of Yakan.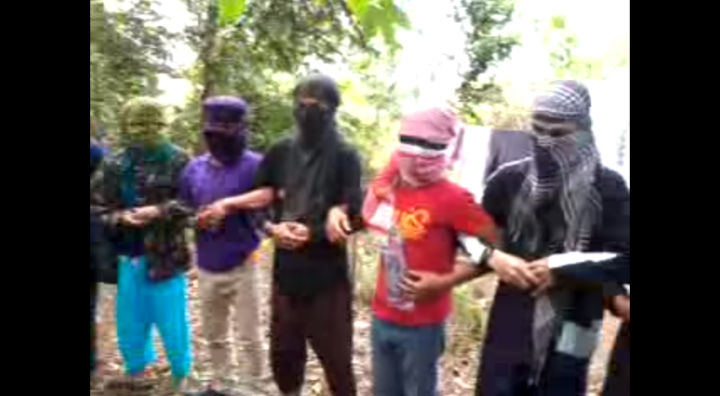 Inspector-General of Police Tan Sri Khalid Abu Bakar said that the Royal Malaysian Police would ensure that support for the Islamic State would not spread throughout Malaysia, despite the red alert warning.
"We are keeping close tabs on the development of such radical groups in neighbouring countries. We will step up security along our borders to prevent any of these elements from slipping in," he said.
"We will not allow extremists to gain a foothold in Malaysia," he added.
An unidentified regional intelligence analyst told Malaysia's The Star Online that Abu Sayyaf posed a greater threat to Malaysian security as the Islamic State have motivated the group into more action.
"The situation in Iraq and Syria, where IS is operating, seems to have given a fresh impetus to Isnilon. There are very good reasons for Malaysia to put out the red alert for this terrorist given the long coastline," the analyst said.
"He and his men are dangerous and their main business is kidnapping, which is carried out to finance their terror activities. He and his men have beheaded an American kidnap victim," he added.