Seven people have been reported killed and four hostages taken as fighting intensifies in the Malaysian state of Sabah.
The skirmish is over a historic claim to the area by a religious group from the southern Philippines.
The Malaysian government said the police and military presence in the area was being doubled, while the religious group said a number of supporters from the southern Philippines had entered the area to reinforce those supporting the claim.
The Malaysian and Philippine naval forces have stepped up patrols in the seas between Sabah and the southern Philippines, which can be reached in an hour.
Five Malaysian police officers and two of their attackers were killed in an ambush on 2 March, said officials.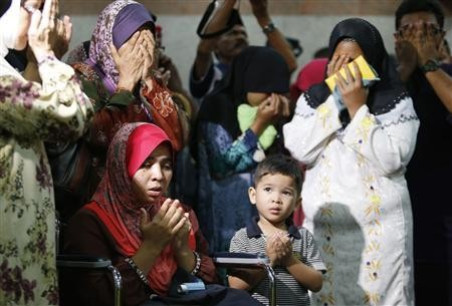 The Malaysian state news agency Bernama reported that villagers near the ambush had beaten to death a man suspected of being one of the attackers. This brings the death toll from fighting in the area to at least 21.
On Friday, 12 members of the Philippine religious group and two Malaysian commandos were killed during a failed attempt to capture the group that has been holding a small village on the eastern coast of Borneo island since 12 February.
A spokesman for the group, whose members claim to be heirs to the sultanate of Sulu, which ruled parts of northern Borneo for centuries, said its forces on Sabah had taken hostage a Malaysian police officer, two soldiers and a government official.
"We advised the people on the ground to take care of them, to feed them, so that in case there shall be international agencies to investigate the matter we can present those four captured government officials of Malaysia as witnesses to the atrocities committed by the government of Malaysia," said the group's spokesman, Abraham Idjirani.
Malaysian officials urged Sabah residents to remain calm and said resorts and other tourist facilities in the area remained open.
"More fatalities may be expected, and as a nation we must come together to rally behind our forces," Liew Vui Keong, the deputy prime minister of Malaysia, told Bernama.
Jacel Kiram, the daughter of Jamalul Kiram, who claims to be the sultan of Sulu, told a TV station in Manila that the Malaysian authorities were rounding up Filipinos in the areas affected by the violence. Thousands of Filipinos live and work in Sabah.
"Yesterday, Malaysian police were indiscriminately capturing Filipinos," she said.