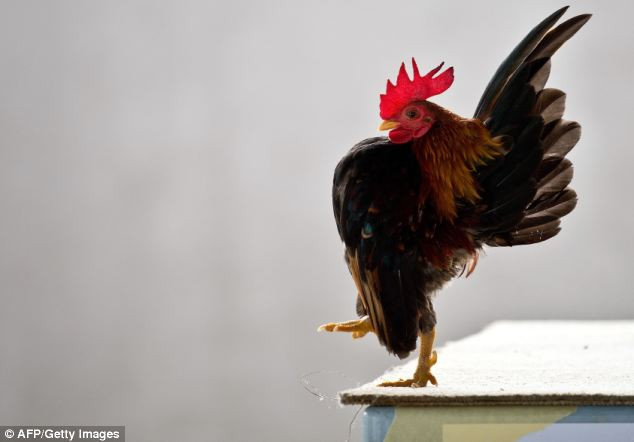 One of the world's smallest chickens has won $10,000 (£5,873) in a beauty contest for tiny poultry in Malaysia.
The Malaysian Serama Chicken - first discovered in the country in the 1960s – is characterised for its particular upright posture.
The bird, which weighs no more than 500g, has been often exhibited in contests in Malaysia, where the animal is particularly loved.
Mohamad Hatta Yahaya, the owner of the chicken which won the contest in Kampung Pandan, Kuala Mapur, said the bird is his hero.
"There are people who want to buy my bird. But I am not selling it. It is part of my family," Hatta told the Jakarta Post.
Judges scored chickens on posture, feather quality, colour and temperament.
Before the show, the birds are subjected to hours of grooming during which their plumage is embellished with additional feathers, taped to them.
Oils are also applied to make the plumage shine.
Norzamini Tukiban, head of the district chapter of Malaysia's Serama Association, said: "These beautiful tiny birds give you great pleasure to own.
"They are warm and tame and this allows you to hold them, making serama birds adorable household pets."
Bred for royalty
There are an estimated 250,000 serama chickens in Malaysia, according to Ahmad Fauzi Mohamed, president of the Malaysia branch of the World Serama Federation.
The small birds were originally used as pets by the state sultans in the country. The word serama is believed to have originated from "Rama" — a term referring to Thailand's royalty.
The popularity of this breed has also spread to Europe and America, where serama clubs can be found.
Many Malaysians eat the sarama chicken, which is believed to alleviate the symptoms of asthma and also hgave aphrodisiac effects.
The tiny birds are believed to have originated from the mating between Japanese and Malaysian bantams – small chickens.
Fauzi Osman, a breeder from northern Malaysia, said breeding is very difficult and "die-hard enthusiasts like those from Indonesia will get someone to smuggle baby chicks for about $200 each."