Malaysian 1MDB scandal: Najib Razak the suave strongman of south east Asia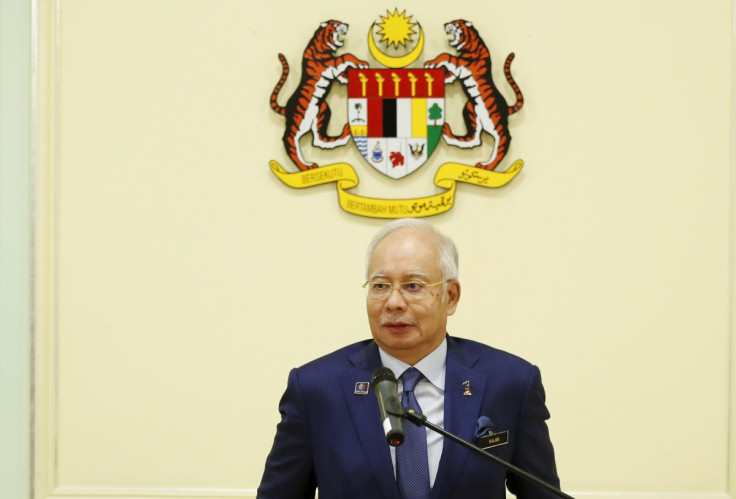 Malaysia's prime minister continues to face an uphill battle as allegations that he funnelled $700m (£490m) from a state-owned fund into his personal accounts have led to fissures within the UMNO party.
The financial scandal, which has been rumbling on since July 2015, has led to calls for the removal of the embattled Najib Razak, who set up the 1Malaysia Development Bhd (1MDB) on his appointment as prime minister in 2009.
Initially intended to establish Kuala Lumpur as a financial hub, it was believed the project would attract investment from a variety of sectors including energy and tourism, However, five years after its inception, it was revealed that the fund was $11bn in debt.
This debt, coupled with allegations of financial mismanagement, has put Najib, Malaysia's sixth prime minister, under an immense amount of pressure in a political arena said to be dominated by Najib's 'mafia-like' iron fist.
The son of former prime minister and 'father of development' Abdul Razak Hussein, who was in office from 1970 to his death in 1976, Najib was seen as a natural successor to his father's seat.
However, prior to his appointment, Najib had no experience in politics, studying industrial economics at the University of Nottingham in the UK and returning to Malaysia to work for oil firm Petronas.
Yet at just 23-years-old, Najib was thrust into the political spotlight, taking over his popular father's seat in parliament after an unopposed election.
His political career has since seen him take on a variety of roles, including minister of defence, minister of education (a role in which he brought in sweeping education reforms), deputy prime minister, and finance minister (a role he retains to this day), finally taking the role of prime minister after Abdullah Ahmad Badawi stepped down.
The government is 'run like the mafia'
Although Najib's popularity had fluctuated prior to his appointment as prime minister, it seemed the electorate was initially optimistic as he took his post.
He announced an intention to focus on the economy and launched projects such as BR1M to help Malaysians who were living below the poverty line, and 1MDB, which was intended to increase investment in the country.
However, Najib's seemingly positive and human-focused start to his tenure as prime minister, which included lifting bans on two newspapers and freeing 13 prisoners, was short-lived.
Member of the opposition Mahfuz Omar was reported by New York Times to have told local media the government is run like the "mafia,"with anyone who dares to challenge Najib being"cut off" and "threatened".
And although Najib put an end to detention without trial in 2012, under his reform agenda, he backtracked on the policy in 2015, passing anti-terror laws that allowed suspects to be detained for up to two years without a trial, similarly using laws to suppress his critics and silence the media - with a recent report from Human Rights Watch highlighting the 'criminalisation of peaceful expression' in Malaysia.
Since the 1MBD fund missing payments to banks and subsequently being investigated, Najib's position has become increasingly unstable, particularly when The Wall Street Journal alleged that $700 million had been funnelled from 1MDB into his personal accounts, a report Najib claimed was 'political sabotage'.
On his Facebook page, Najib wrote: "The latest allegation is that I have taken state-linked funds for personal gain. I believe Tun, working hand in glove with foreign nationals, including the now discredited political attack blog Sarawak Report, is behind this latest lie.
"Let me be very clear: I have never taken funds for personal gain as alleged by my political opponents – whether from 1MDB, SRC International or other entities, as these companies have confirmed.
"It is now clear that false allegations such as these are part of a concerted campaign of political sabotage to topple a democratically elected prime minister."
The fund itself has also denied the allegations, stating that it had never provided any funds to the prime minister, and said it was cooperating with investigations from authorities including the Auditor General, the Public Accounts Committee and Bank Negara.
During the summer of 2015, media outlets described Najib as 'fighting for high political life' as the financial allegations surfaced, but he has thus far managed to retain his position, despite criticism from across the benches and within his own party.
Although the 62-year-old denies he received money from 1MDB for personal gain, his former deputy prime minister Tun Mahathir has spoken out against him, with others in the party rallying around Mahathir as the financial scandal continues.
He is also a loathed figure by many members of the opposition alliance, whose leader Anwar Ibrahim is currently in prison on sodomy charges that he says are 'politically-motivated'.
Anwar's detention was criticised by a UN group of human rights experts in 2015 as being illegal, while Anwar himself has denied the charges, calling them 'bizarre' and stating he believes them to be a conspiracy designed to keep him out of politics.
Meanwhile, Anwar's wife is currently heading up the opposition coalition that would no doubt like to see Najib removed from office.
Indeed, whether his own party will retain Najib as leader in the run-up to the 2018 general election is yet to be seen, but given that international agencies including the UK's serious fraud office are now weighing in on the financial scandal, his position remains precarious.
© Copyright IBTimes 2023. All rights reserved.