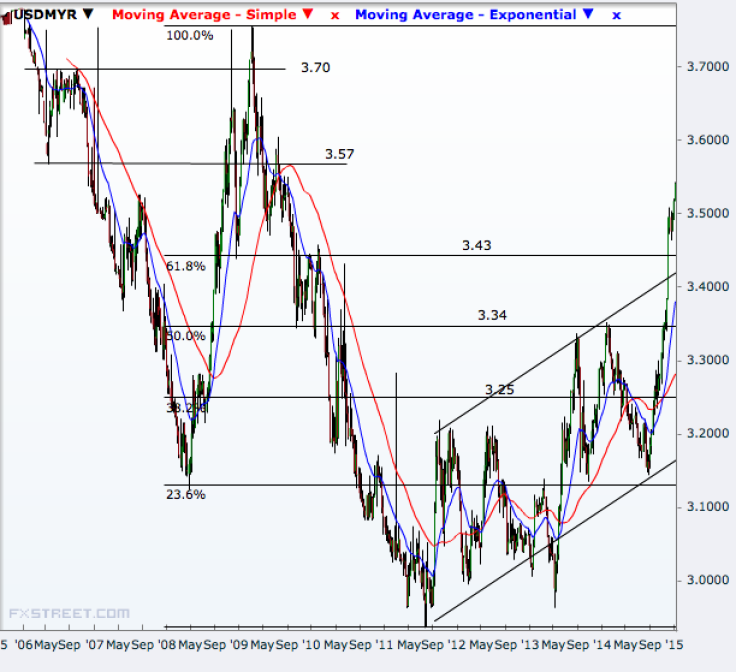 Malaysian ringgit plunged to a new five-year low on 5 January with the greenback continuing its broad rally while the market is waiting for trade and industrial data from the south Asian economy later this week
At Monday's high of 3.54 for the pair, the ringgit was down 0.8% from the previous close of 3.51 and the weakest since September 2009.
The US dollar index rose to a new multi-year high of 91.47 on Monday from 91.12 at Friday's close, with euro-negative news rather than dollar-positive news adding to the greenback's strength.
Malaysia has been seeing inflation quickening and trade surplus dwindling over the recent past while the currency is continuing its declining trend since mid-2011.
The USD/MYR upward channel started three years ago has been broken higher sharply late November by rising past 3.40.
Inflation rate has risen to 3% from a year earlier in November from 2.8% in the previous month and trade surplus narrowed to 1.2b ringgit in October, significantly down from 8.23b ringgit a year earlier.
Malaysia will release its November trade data on 7 January and industrial output data on 9 January. The next inflation data is on 21 January.
Malaysia has hiked the main rate once in 2014, which was its first hike in three years. After the 10 July hike to 3.25% from 3%, the Bank Negara Malaysia has been keeping policy rates steady.
The next BNM rate review is on 28 January and the authorities are facing a mix of sharp downsides in the currency, accelerating inflation and weakening trade scenario amid other global headwinds.
And traders seem to be betting for further slides in the ringgit, so the likely upside barriers in the pair are significant.
Technical analysis
USD/MYR has broken all the Fibonacci retracement levels of the 2009-2011 sell-off in the recent uptrend and there are only a few weak resistance points left before a retest of the 2009 peak.
The immediate resistance is 3.57 and then comes 3.70, after which the pair can aim the 2009 high of 3.75.
In case of a retreat, the pair will first aim 3.43 but a stronger support will be 3.34, a break of which can significantly weaken the current uptrend.
A break below 3.25 will confirm the resumption of the downtrend opening doors to levels like 3.0 and lower.