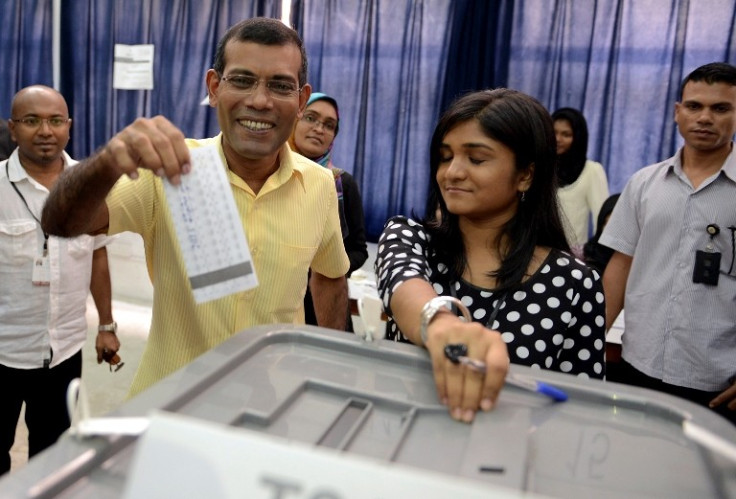 The Maldives' electorate have again been frustrated by the country's fledgling democratic process as the country seeks to elect a new president.
The Supreme Court has suspended a "run-off" between the leading two candidates after a Progressive Party of the Maldives (PPM) candidate, Yaamin Abdul Gayoom, requested time to sort out alleged discrepancies in the voters' list.
The former President, Mohamed Nasheed, of the Maldivian Democratic Party, who had been forced to resign last year following weeks of popular protest and mutiny by police officers, was favourite to win outright but when voting ended on 9 November he had polled 47%, just short of the 50% required for an overall majority.
His nearest contender, Gayoom, half-brother of the country's former autocratic ruler Maumoon Abdul Gayoom, was some way behind with 30%.
This is the latest setback for the presidential elections. On 7 September proceedings halted when another candidate, businessman Qasim Ibrahim (Jumhooree Party), who was trailing the two front-runners, claimed there had been irregularities in the electoral process.
The Supreme Court backed up Ibrahim's claims, saying the register included the names of dead people, though outside observers found no evidence to support the claims.
New guidelines for elections were introduced, leading to further delays on 19 October when the police halted proceedings, claiming neither Ibrahim or Gayoom had approved the voter register. Sitting President Mohammed Waheed Hassan intervened on 6 November, seeking assurances from all candidates that they would approve the register.
According to the Maldives constitution a new president must be approved by 11 November, which meant any run-off between the two leading candidates had to take place just a day after the first round of voting. Now the Supreme Court has ordered that would be too soon, and potentially "undermined the constitutional rights of many people".
Since embracing democracy in the first multiparty election in 2008, the Maldives have experienced great upheaval, as institutions including the police and judiciary have been accused of political bias. Although the country continues to attract tourists - who contributed some 27% of the country's gross domestic product last year - there have been warnings from the US and Britain that the country's economy faces long-term damage unless the election is completed soon and is seen to be fair.
The Maldives, a chain of atolls in the Indian Ocean, has a reputation as an island paradise but many in this predominantly Muslim nation face great poverty, with unemployment rife, a growing drug problem among young people and a rising threat from Islamism.