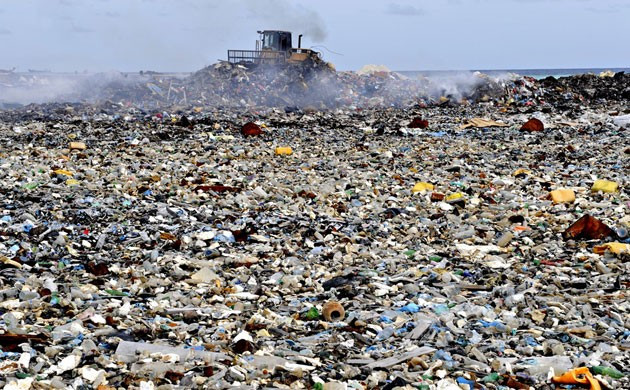 The build-up of garbage on Thilafushi, an artificial island 7km (four miles) from the Maldives capital Malé, has become so acute that detritus has started to spill into a nearby lagoon.
Nicknamed "Rubbish Island", Thilafushi has been used to dump waste from the Maldives's luxury hotels and resorts for many years.
An emergency clearing operation to remove "hills of rubbish" which plague the island with perpetual smog and smoke from decomposing waste. Thilafushi serves as the dumping ground for the whole country, and rubbish is taken there to be buried, burnt or - in some cases - recycled.
The BBC reports that many Bangladeshi workers spend hours sifting through the wreckage looking for materials their employers can sell.
The accumulation of rubbish has become so pronounced that boatmen have started dumping trash in the island's lagoon, impatient at having to wait up to seven hours to unload their cargo.
The head of the Maldives' Environment Protection Agency, Ibrahim Naeem, denies Thilafushi is filling up and says the delays in dealing with rubbish are the result of technical errors.
He stressed that work was under way to improve waste disposal and ban the open burning of waste, which creates toxic clouds of carbon dioxide and chemicals.
Environmental groups, including local campaign group Bluepeace, have criticised the government of the Maldives for failing to deal effectively with the problem of waste disposal in the country. They have also highlighted the problems caused by toxic waste seeping into the sea and poisoning local flora and fauna.
Bluepeace campaigner, Ahmed Ikram, said that nothing had come of the government's promises to create a biofuel facility on the island.