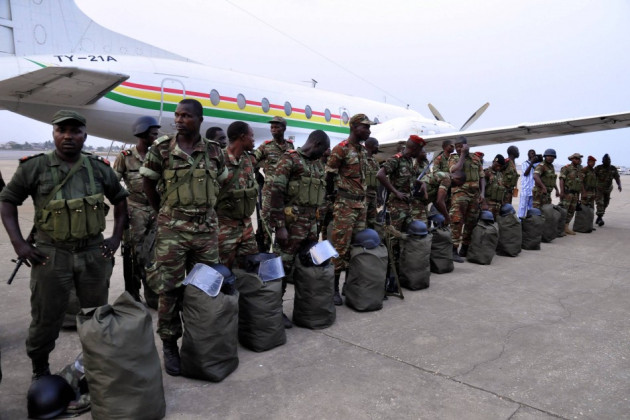 The Malian army along with French forces continued pounding on Islamist rebels in the West African landlocked nation recapturing key towns.
In a major setback to the al-Qaida-linked Islamic extremists, the coordinated air and ground offensive has helped drive them away from the strategic towns of Diabaly and Konna.
"They (the Islamists) fled the town, dressed as civilians, early this morning. They abandoned their weapons and ammunition. There are lots of burned-out vehicles that the Islamists tried to hide in the orchards," a security official source told Reuters.
"Diabaly is freed, the Islamists have left and the French and Malian troops have entered the town," a local government spokesperson said.
Fighting is going on in other towns and reports suggest that the French offensive has been slowed down after some Islamists sought refuge in civilian homes in the region.
The arrival of French troops has brought smiles to most of the faces of residents, who have been under a strict Sharia law imposed by the Islamists.
"They will do it. We're confident that they will do it well. They came a bit late, it's true, but they came. We're grateful and we're behind him [Francois Hollande]," a Bamako inhabitant named Omar Kamasoko told Reuters.
Nearly 1,800 French troops have already been deployed in its former colony and the number is likely to swell to 2,500.
Meanwhile, regional leaders in West Africa are to outline a plan for the UN-backed Ecowas troops for fighting against the rebels.
The African leaders along with the French Foreign Minister Laurent Fabius are to hold talks in Ivory Coast.
The first contingent of African troops has already landed in the Malian capital Bamako which will soon take over the lead from the French forces.
"The crisis in Mali, if not brought under control, may spill over to Nigeria and other West African countries with negative consequences on our collective security, political stability and development efforts," said the Nigerian President Goodluck Jonathan.
Nigeria, which will be spearheading the African troops, has also boosted its troop numbers to 1,200 from 900. Chad has approved deployment of 2,000 troops along with contribution on the aerial front.