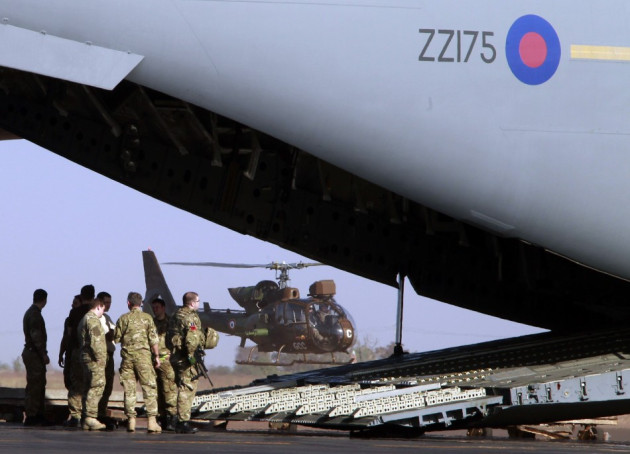 The UK is ready to deploy up to 330 military personnel in Mali and other West African countries to support the French and international efforts against Islamist groups in the region.
Secretary of state for defence Philip Hammond explained that no combat forces will be deployed but the contingent is made of military advisers and training personnel.
"The UK has great interest in the stability of Mali," Hammond told MPs, explaining that it is in Britain's interest for the country not to become a "terrorist haven."
"The role of British troops is clearly not a combat role," Hammond added. "The French have taken the lead and supporting them is a sensible and right thing to do."
Twenty British military personnel are already in Mali's capital of Bamako to provide logistic support and help airport operations involving RAF C17 cargo planes earlier deployed to help France's operation Serval in the country.
The defence secretary added that a C17 will remain operative in the region for another three months.
Britain is to offer the deployment of an additional 40 military advisers in Mali, as part of an EU contingent to train local troops.
However the actual number of personnel to be sent depends on the outcome of ongoing talks with other European partners.
Another 200 troops are to be deployed in other western African countries - namely Nigeria, Ghana, Sierra Leone and Gambia - with a brief to provide training and support to the national armies that are to join the UN AFISMA (African-Led International Support Mission) in Mali.
Security and protection to the British contingent will not be provided by national forces, but the UK is looking for arrangements to be made with France and other EU countries.
An RAF Sentinel surveillance aircraft is also to be sent alongside 70 military personnel in Dakar, Senegal, from where it is to carry out operations in Mali.
The defence secretary said it is "premature" to talk about a time schedule for the deployment since details of the training mission haven't yet been defined.
The West African Economic Community (ECOWAS) offered to deploy 3,300 soldiers under UN authority in Mali last year, but the troops have yet to arrive.
Hammond said the deployment has been delayed because of the additional equipment and training required by some AFISMA forces.
The decision to foster British presence in the region followed a French request in that sense, Hammond said.
Britain is also to provide £5m in aid to UN funds to strengthen security in Mali. Three million pounds will be given to AFISMA and £2m to "support political process" in Mali.
Hammond said the UK is looking to also provide humanitarian support and assistance to Mali in the short and long-term, but wasn't able to provide specific details.