Malia Obama filmed rolling on floor and slumped in golf buggy at Lollapalooza
Reports also claim that Malia, 19, lost her phone at the Grant Park festival in Chicago.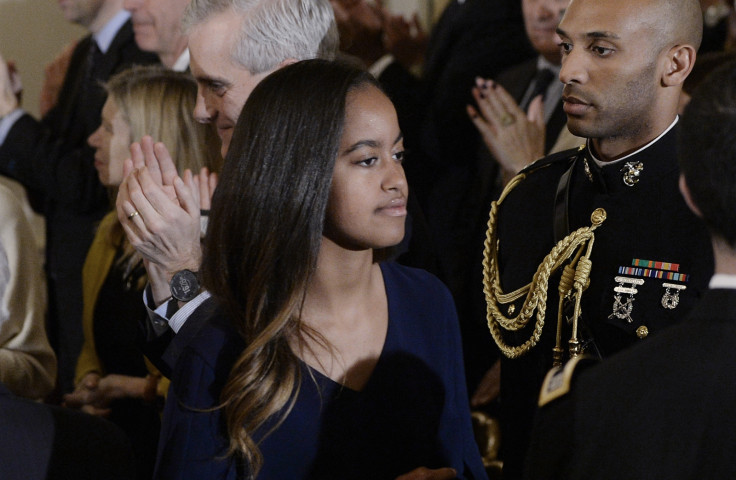 Footage has emerged of Malia Obama writhing on the floor at Lollapalooza before being driven out of the music festival, slumped over in a golf buggy.
The 19-year-old attended the annual event at Grant Park in her parents' old haunt of Chicago on 4 August with a group of friends. In one video, Barack and Michelle Obama's eldest daughter is seen stumbling around with a female companion while watching The Killers perform on a nearby stage. Before long, Malia throws herself on the floor and begins rolling around, before jumping around and headbanging.
Clearly having had a great night, Malia is later seen being carted off the festival site in a golf buggy with a few friends.
As a Secret Service agent clears the path surrounding the car, Malia is seen with her head slumped, appearing to have fallen asleep, and only wakes up when the buggy jolts. Despite speculation online, there is no evidence to suggest Malia was under the influence of alcohol at the time.
Although it seems Malia may have had too much fun as the New York Post's Page Six reports that the teen had lost her phone at the event.
An eyewitness, who reportedly spotted Malia at an Apple store in Chicago, told the website: "Malia came into the Apple Store to get her iPhone replaced, but things didn't go exactly [as planned]. The Apple Store couldn't immediately help her because she didn't have the Apple ID or the password for the missing phone, since the White House set it up."
Malia is known to be a huge fan of Lollapalooza and became embroiled in controversy in 2016 when she filmed smoking a suspicious cigarette, which many claimed was marijuana. At the time, a source alleged to Radar Online that they could smell marijuana smoke near to where the former First Daughter was partying.
The summer will soon come to an end for Malia, who will begin her first term at Harvard University in the autumn. Over the past year, Malia has interned for various movie studios and received praise from Oscar-winning actress Halle Berry. Malia shadowed as a production assistant on set of Berry's Amazon series Extant and proved to be a hard worker.
Praising the teen's work ethic, Berry said on Watch What Happens Live: "She was fantastic, she was amazing. She was down to do whatever a PA is asked to do, and I had wild respect for her for that. Everybody couldn't really see her as a PA, although she tried and tried to be one. We just couldn't really see her as one, but to her credit, she tried very hard to be one."
© Copyright IBTimes 2023. All rights reserved.