A man from South Florida shocked friends on Facebook by uploading a picture of his dead wife only minutes after killing her.
According to authorities, 31-year-old Derek Medina killed his wife Jennifer Alfonso, 26, by shooting her on Thursday morning. He has been arrested and charged with first degree murder, ABC15 reported.
Medina told Miami-Dade police he took the extreme step after his wife of three years revealed she was leaving him.
When police reached the couple's South Miami home, they found Jennifer's body and their 10-year-old daughter, who was not harmed.
The affidavit says Medina and Jennifer were having a heated argument on Thursday, in the first-floor bedroom of their house, when Medina got hold of a gun and pointed it at her.
At that point, Alfonso left the bedroom only to return and tell him she was going to leave him. The couple continued arguing and Jennifer started punching Medina, after which he shot her several times.
After the murder, Medina posted a picture of Jennifer's lifeless body on Facebook and updated his status on Thursday morning saying: "Im going to prison or death sentence for killing my wife love you guys miss you guys takecare Facebook people you will see me in the news."
Medina continued by claiming Jennifer was punching him and he did not want to "stand anymore with the abuse".
In the picture uploaded by Medina, with the caption "Rip Jennifer Alfonso", the woman can be seen lying on the floor in a black leotard with her legs bent to her sides. The photo was online for five hours before it was removed by Facebook.
"The content was reported to us," a Facebook spokeswoman said, adding, "We took action on the profile -- removing the content and disabling the profile, and we reached out to law enforcement. We take action on all content that violates our terms, which are clearly laid out on our site."
"I met him a couple of times. He seemed like a pretty nice guy," Phil Eby, a neighbour of the couple, said.
The couple married in January 2010 and were divorced in February 2012. They remarried three months later.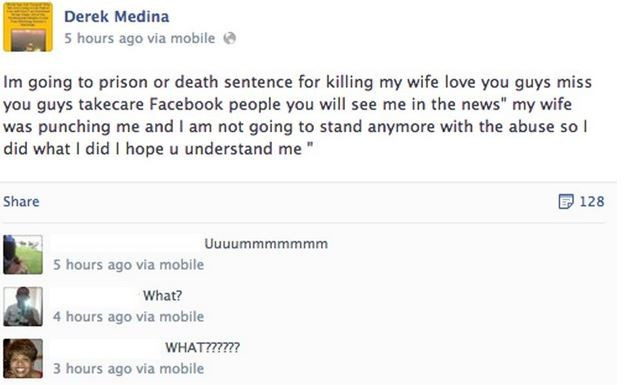 READ: Man Who Posted Dead Wife's Photo on Facebook Wanted to be Famous