A man is being credited for saving his fiancée's life by pushing her to safety, while a white supremacist barrelled through a crowd of protesters with his car in Charlottesville.
The couple was attending the counter-protest to a white supremacy rally when the deadly incident occurred, The Daily Mail reported. James Fields Jr is accused of ramming his car into the crowd of protesters, killing one and injuring 19 others.
Marcus Martin, 26, pushed his fiancée Marissa Blair, 27, out of the way before being hit by the driver's car. A graphic photo of the crash shows Martin flying over the back of the car's hood, his legs in the air.
The Dodge Charger then proceeded to back up over Martin, breaking his leg, other photos and video show.
"He saved me then he was under the car," Blair told the Daily Mail.
Moments before, the couple was walking through the street, laughing and chatting with other protesters, including their friend 32-year-old Heather Heyer, who was killed. Blair told the Daily Mail the group then decided to take a left instead of a right at a key intersection.
"We hear a commotion from the top of the street. It happened so fast. I felt myself shoved out of the way. [Martin] had pushed me out of the way," she said. "He saved me then he was under the car. I checked myself and then immediately thought, 'Where's Marcus?'"
"I started looking where the car had hit people. I saw his hat had blood all over it but he wasn't there. I found him with no blood on him," she said. Blair said that in the commotion she was taken to another hospital and then learned Heyer was dead.
"I'm still numb," she said. "My friend is dead. Heather was with us because this is what Heather believed in. She died standing up for what she believed in."
She said her heroic fiancée is in a stable condition.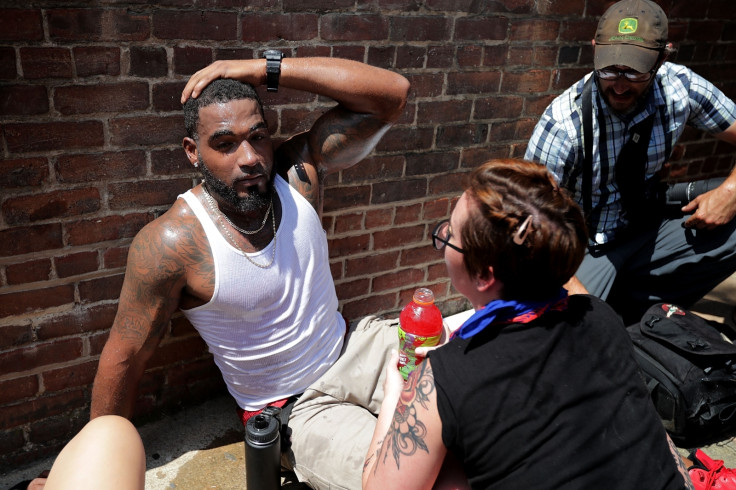 "It was senseless," she said of the attack. "People said we were wrong for being there but it was that guy [driver] who was wrong. Why would anyone think that it's okay to do this? He rammed into us."
Fields, 20, was charged with second-degree murder, three counts of malicious wounding, and one count related to leaving the scene. Heyer, a 32-year-old paralegal, was killed and 19 others were injured. Fields' bond hearing is scheduled for Monday (14 August).