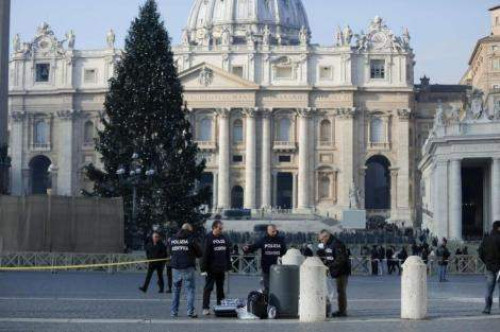 A 51-year-old man set himself on fire in St Peter's square, Vatican City on Thursday morning.
According to the authorities, the man arrived in St Peter's square with his clothes already doused in inflammable liquid. He abruptly took a lighter from his pocket and set himself alight.
A Vatican statement says a Jesuit priest initially tried to smother the flames with a jacket. He was later joined by two police officers who used a fire extinguisher to put out the blaze. The officers were treated at the hospital for smoke inhalation and injuries to their hands.
The Vatican inspectorate called an ambulance and the man, whose identity is still unknown, was rushed to the St. Eugenio hospital in Rome.
The reasons of the man's gesture are still unknown. A piece of paper with his daughter's number was found nearby.
It is not the first time someone has set fire to themselves within the Vatican City. Alfredo Ormando (39) died in hospital 10 days after setting himself on fire on 13 January 1998. He was protesting the church's condemnation of homosexuality.
"I hope they'll understand the message I want to leave: it is a form of protest against the Church that demonises homosexuality, and at the same time all of nature, because homosexuality is her offspring," said Ormando in a letter.