An alleged concept art image of the new Batsuit surfaced online on April 28.
The Man of Steel sequel is yet to release images of the revamped costumes for the film, and has not confirmed the validity of the alleged concept art, reports HNGN.
Check out the image below:
New Batsuit concept for Man of Steel sequel pic.twitter.com/kgnKWhm9d5

— ScreenTalkerDotOrg (@ScreenTalker) April 28, 2014
Meanwhile, looks like a Good Will Hunting reunion might be happening soon on the sets of Batman vs Superman.
As per recent rumours, Ben Affleck's best friend Matt Damon might be joining the cast of the newly confirmed Justice League film – not as Robin (!) but as Aquaman.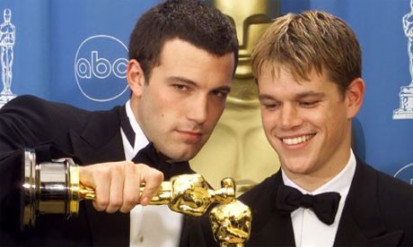 According to The Wrap, Damon has been rumoured to be playing Aquaman for over a year. However, no official announcements have been made regarding his inclusion. Aquaman is a prominent member of the Justice League team although it has not been confirmed whether the character would be making an appearance in Man of Steel 2.
Incidentally, Game of Thrones actor Jason Momoa was also rumoured to be in the running for Aquaman's part but he denied all such rumours during an earlier interview with IGN (via Enstars):
"It's just rumors," said Momoa. "I want to say something amazing, but I can't comment on rumors. It's flattering . . . I'm not involved in it . . . Maybe someone said, 'You should be in this!' and I said, 'Yeah that would be great!' And it just went too far."
Warner Bros announced on Sunday, April 27 that Zack Snyder will be directing the Justice League film after wrapping up the Man of Steel sequel.
Man of Steel 2 is scheduled for release in theatres on May 6, 2016.