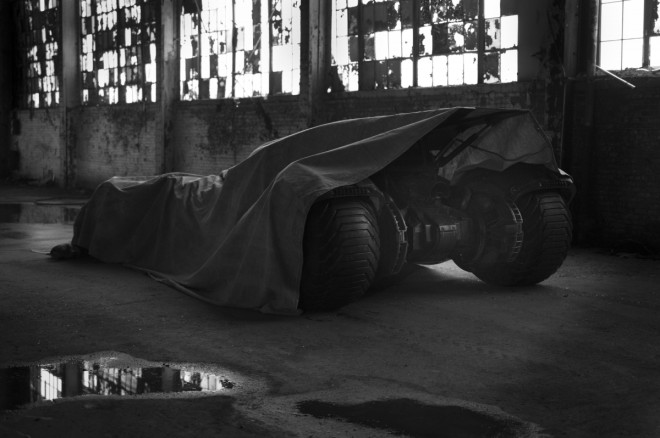 Man of Steel director Zack Snyder gave Batfans a reason to rejoice when he revealed the first look of the Batmobile as well as Ben Affleck as Batman decked up in his Batsuit.
Snyder tweeted the images from the upcoming Batman vs Superman movie while also hinting at the release of Wonder Woman's costume soon.
I shot this with my @Leica_Camera M Monochrom. #Batman #Batmobile #Gotham http://t.co/WPHKLxgBLM pic.twitter.com/p5DEf6fLzJ

— ZackSnyder (@ZackSnyder) May 13, 2014
Tentatively named The Man of Steel 2, the Batman vs Superman flick will premiere in May 2016 but fans are keen on knowing details about their favourite super hero's looks in the movie.
Fans were outraged and gave vent to their anger through social media when Academy Award winner Affleck was declared as the next Batman by movie director Snyder.
The super hero film also stars Henry Cavill as Superman, Gal Gadot as Wonder Woman and Jeremy Irons as Batman's loyal butler Alfred.
Earlier, Christian Bale was appreciated for his gloomy superhero role in the Dark Knight trilogy.
Affleck will be the fifth actor to play Batman on the big screen since the revival of the character in 1989 by Warner Bros.
Michael Keaton played the title role in that movie while Val Kilmer, George Clooney and Christian Bale enacted the role in other Batman movies through the years.
In the latest movie Batman Affleck looks huge in his dark and grainy suit while the Batmobile is a mix of the old vehicle and the newer version Christian Bale used in his trilogy.
As soon as the images were revealed by Snyder, fans tweeted either their excitement or their disappointment about Ben Affleck's latest look.
Check the tweets below:
It's not until looking back with eyes on the new one that I realize how bad the Nolan Batsuit actually is. pic.twitter.com/MZohlCDXEf — bottom cow tea (@sundowner434) May 13, 2014
New Batsuit looks like it's coming straight from The Dark Knight Returns Series. Ben doesn't look to bad! Will people be eating their words?

— Metal Machine (@metalmachineweb) May 13, 2014
but why the batsuit look like fabric... the picture look bad none the less — Bruce William (@TheBruceWilliam) May 13, 2014
Yeah. The new Batsuit seems to be cloth over a muscle suit. If the muscle suit's "armor", okay. It's supposed to be muscles, bad, hah.

— Brian Provinciano (@BriProv) May 13, 2014
If I had one thing bad to say about the new Batsuit, it would be the ears. They're just rubbing me the wrong way man. #Batsuit #BatVsSuper — Simeon Guard (@SimJGuard) May 13, 2014
Wow, I AM impressed. Love the new Batsuit/mobile. Too bad the movie is still over TWO YEARS AWAY *face palm*.... #BatmanvsSuperman

— Peter John (@redeyesurprise) May 13, 2014
I think the new batsuit looks pretty good. But I'm still not following Zack Snyder on Twitter. #nope — Beaumont Paul (@GentlemanBeau) May 13, 2014
I was upset until I saw the new Batsuit so now I'm feeling really good.

— Tim Allen (@nightw4ng) May 13, 2014
that bat suit is actually perfect. If you read the comic it is based off you will know why. ....Afleck will do a good job. — Adam Zand (@zane99) May 13, 2014