Premier League champions Manchester City and European champions Chelsea have reportedly been warned against inflated sponsorship contracts from companies associated with each club. UEFA's report on club's financing patterns, sponsorship deals and other commercial aspects, includes a list of nearly 50 clubs who are believed to have been warned over potentially fraudulent practices.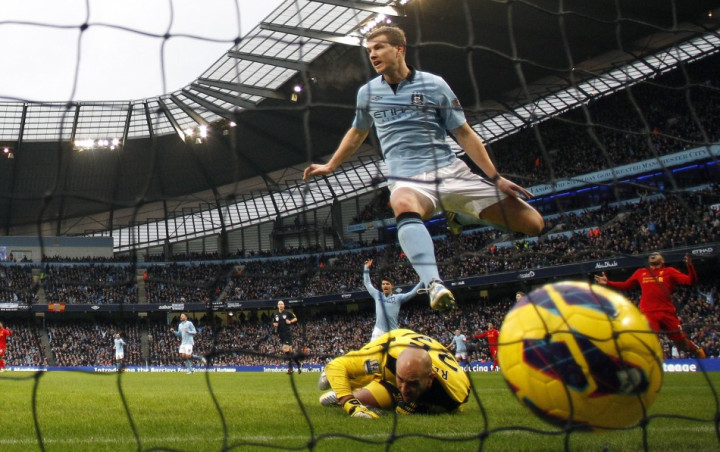 European football's governing body is moving towards a full-scale implementation of the Financial Fair Play (FFP) regime, which is expected to limit spending power of all clubs by linking expenditure directly to revenue. The idea is to prevent clubs bankrolled by wealthy investors from taking unfair control of the transfer market.
UEFA's report is based on reported figures between 2009 and 2011 and show City as having a £400m sponsorship agreement with Abu Dhabi-based Etihad Airlines. The problem here, UEFA suggest, is that both City and the airlines are owned by the same organisation.
The champions recorded a loss of nearly £100m in the 2011/12 season, which is significantly more than double the allowed amount of approximately £40m for the period 2011 - 2013. The club was earlier also warned over the size of its wage bill (Chelsea also received a warning), which stood at £191m
These are significant figures and although City hope to rely on exemptions, such as those for money spent towards developing infrastructure like training facilities, the fact the club has announced a loss will alert UEFA, particularly if the club spends big money on transfers this summer.
In that case, the connection between Etihad Airlines and Manchester City assumes importance because, in simple terms, an inflated sponsorship deal covers operational losses and allows the club to violate the FFP policy of only spending as much as you earn.
Similarly, Chelsea and French club Paris St Germain (PSG) are also believed to be under scrutiny. The Blues will probably be the most confident of these teams, given they recorded a first ever profit in the Roman Abramovich-era - £1.4m.
PSG's £125m per year agreement with the Qatar Tourism Authority, however, is likely to raise eyebrows at UEFA, given the fact the club is owned by Qatari business interests.
"Everyone, including PSG, know they have to demonstrate [the deals] are without cheating and that will be submitted to panels. We have a regulation which speaks about fair value of deals and the fact that a related party cannot just inject money into a club directly or indirectly," UEFA general secretary Gianni Infantino said.
UEFA has already sanctioned Spanish club Malaga and the team will now not be allowed to play in the Champions League next season, after non-payment of wages and tax bills.
"We see already some trends which are changing, and I think there are a few encouraging messages coming out of this study. [They] are, from my point of view, that in spite of the general economic situation, revenues in top division club football have grown again. We are now at €13.2bn in revenue. The other encouraging figure is linked to the fact that losses are stabilising. For €13.2bn in revenues, we had €14.8bn costs. This makes around €1.6 to €1.7bn of losses in one year. This is worrying. But it is a little less worrying than last year. It is encouraging, because the break-even rules, which will be the rules which have the major impact on this calculation, have not yet kicked in completely. The assessment will be done for the first time next year, so there is still a little bit of time. It shows that the clubs have taken it on board and that they are really taking it seriously and trying to spend a little bit less," Infantino concluded.