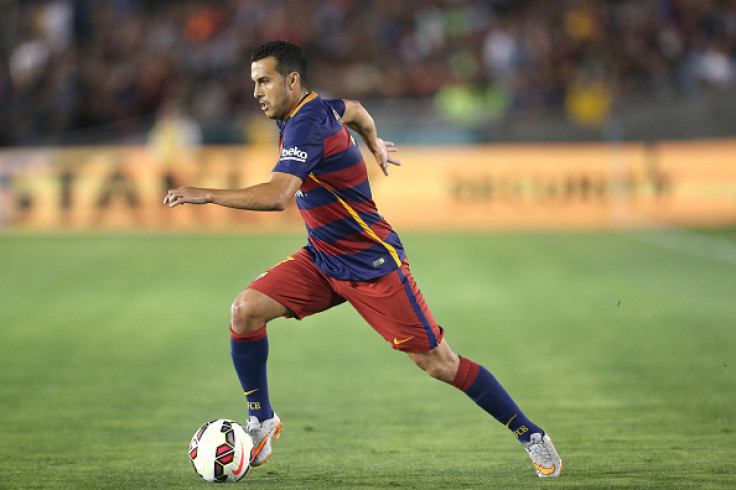 Manchester City will make a move for Barcelona winger Pedro Rodriguez if they fail to sign Kevin de Bruyne from Wolfsburg this summer, according to the Mirror.
Pedro has been heavily linked with a move to Manchester United, with Louis van Gaal earmarking him as a direct replacement for Angel di Maria, who has gone to Paris Saint-Germain after only a year at Old Trafford, where he failed to live up to expectations.
The winger has scored 99 goals in over 300 appearances for the club, but has revealed that his future at the club is complicated and would consider a move abroad if it provided him with more game time, something which he will not be afforded at Barcelona, given the form of Luis Suarez, Lionel Messi and Neymar.
United are the frontrunners for his signature, but the Guardian reports that the player is reconsidering his decision to move to Old Trafford, owing to reservations over Louis van Gaal's managerial style after the Dutchman blanked out former teammate Victor Valdes due to allegations over his refusal to play for the reserves. The former Barcelona man repudiated the claims but has never made an appearance in a United shirt since.
Meanwhile, the Mirror reports that City have made a £50m ($78m) bid for De Bruyne, but are still £7m ($11m) short of Wolfsburg's valuation, who are unwilling to sell this summer. The 2013/14 Champions have already signed Raheem Sterling for a reported £49m ($77m) fee and Manuel Pellgrini believes he needs one more signing to make a proper title push this season.
The Belgian remains their top priority, but Pellegrini is willing to make a move for Pedro if the transfer falls through, giving United something to worry about, with the transfer window drawing to a close.
Van Gaal recently confirmed that United needed a player in the same mould as Pedro and would go head to head with their bitter City rivals to complete the move.