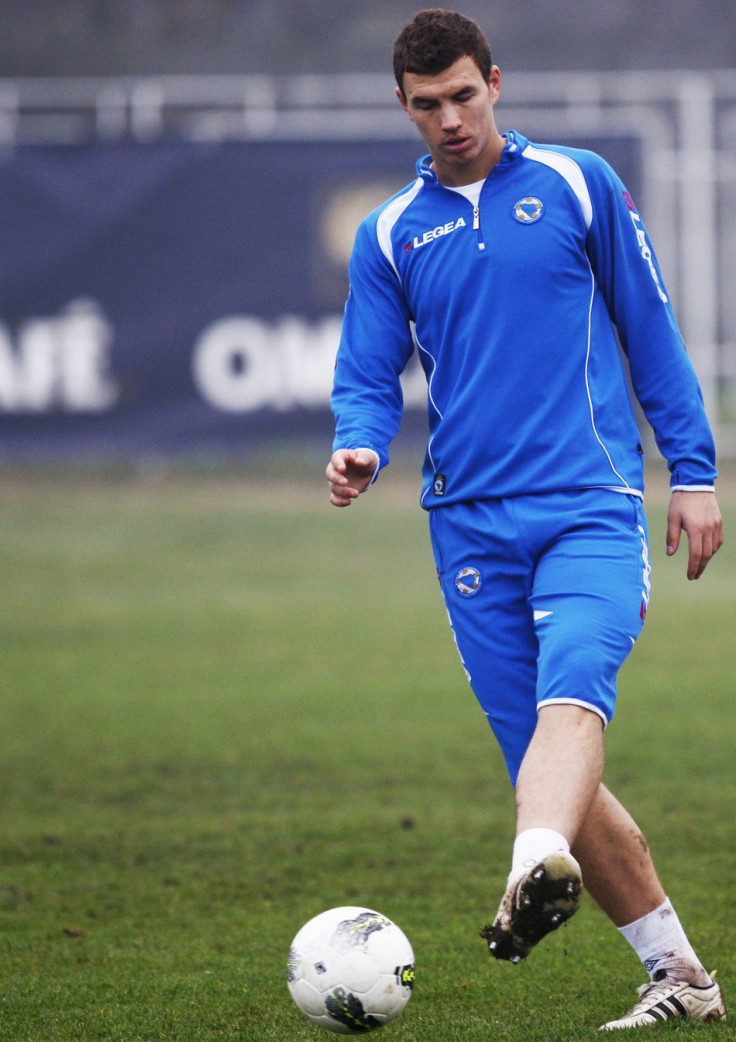 Manchester City striker Edin Dzeko has reportedly agreed terms with Champions League finalists Bayern Munich over a possible move to the Allianz Arena this summer, according to a Sky Sports report. In addition, the Daily Mail claims Bayern Munich, who suffered a tragic defeat to Chelsea in the final despite dominating large sections of the game, are lining up a £20mn bid for the Bosnian striker, who has fallen down the pecking order at the Etihad.
City boss Roberto Mancini earlier made it clear he was going to offload the 26 year old this summer, in order to cut down on his team's total wages. Due to this reason Irfan Redzepagic (Dzeko's agent) reportedly told Bayern CEO Karl-Heinz Rummenigge his client would be more than happy to make a move to the Allianz Arena. However, Redzepagic claims a deal between the two parties has not been finalised.
"Of course not. It's crazy even to comment on that," Goal.com quoted Redzepagic as saying.
Dzeko, who transferred to City from German club Wolfsburg in January 2011, started his City career well, scoring 18 goals in 42 appearances last season. However, although he has scored 14 goals this season, the 26 year old has begun to lose his place to the likes of Sergio Aguero, Mario Balotelli and Carlos Tevez, who are favoured by Mancini. After the end of this successful season for the Citizens, Dzeko was being heavily linked to Italian champions Juventus. However, Dzeko's agent denied the rumours, stating the Bosnian striker wanted to continue at the Etihad.
"Dzeko remains at Manchester City. We are pleased for the rumours about Juventus, they are a great club. But Edin plans to stay at Manchester City," Redzepagic stated earlier, according to an ESPN report.
Meanwhile, apart from Dzeko, Bayern are also reportedly interested in signing FC Twente's Luuk de Jong, who has been in very good form, scoring a total of 32 goals in 54 games (in all competitions) this season.
According a report on Goal.com, Bayern Munich have already contacted the 21 year old striker's agent and de Jong is reportedly very excited at the prospect of playing alongside Holland teammate Arjen Robben. However, a deal has yet to be finalised.