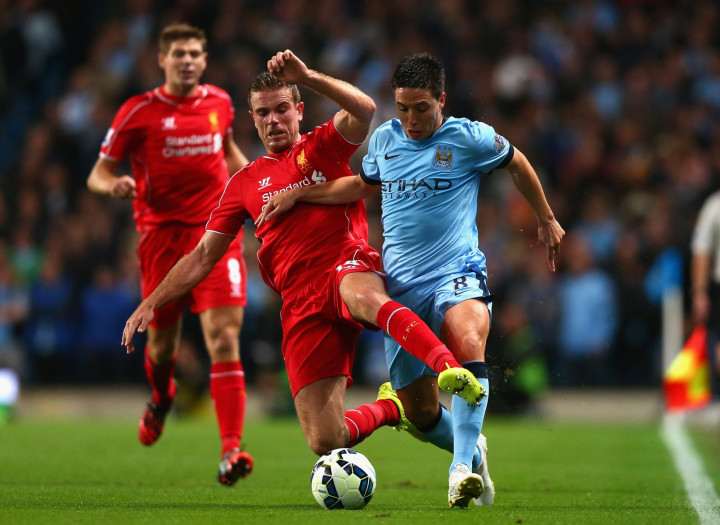 Manchester City midfielder Samir Nasri believes Arsenal, Chelsea and Manchester United represent the club's greatest competition in their attempts to retain the Premier League, but has written off last season's runners-up Liverpool.
The Reds finished two points behind City last season after falling away in the final weeks of the campaign, but despite making nine summer signings have sold last term's top scorer and player of the year Luis Suarez to Barcelona.
And Nasri believes that the loss of the Uruguay international coupled with the added distraction of a return to the Champions League for the first time in since 2009 makes Liverpool outsiders to stage another bid for the title.
"Liverpool will find it tougher because they have lost Luis Suarez and they will be playing Champions League football so it will be different for them," he told the City match-day programme.
"Last season they only had the Premier League to go for in the final months and it gave them a real advantage because their players were going into games fresher at a vital stage of the campaign."
Having dismissed Liverpool as contenders for City's title, Nasri believes two of the three biggest spenders in the summer transfer window, United and Chelsea, are the primary threats for the top spot.
Chelsea have added Diego Costa, Cesc Fabregas and Loic Remy in the off-season, while United have embarked on the biggest summer of spending in their history with the Angel di Maria among their signings.
And Nasri – a two-time Premier League winner – is confident those improvements make them City's main competition alongside former club Arsenal.
"I think our two main rivals will be Chelsea and Manchester United," Nasri continued.
"Chelsea have made some good signings and Cesc Fabregas will be the guy to replace Frank Lampard," he said. "He is a great player, I know that because I was with him at Arsenal.
"Chelsea had a weakness up front last year but have signed Diego Costa. They will be really dangerous.
"United have a new coach, have strengthened as well and don't have any European competition – so I expect them to come back stronger, too."
"But Arsenal could be in there, too, and bringing in players like Alexis Sanchez will make them stronger."