Manchester-Ibiza flight delayed as police remove 'drunk, aggressive' women from plane
Photographs of the rowdy women went viral on social media, while police say no action will be taken.
Greater Manchester Police reportedly removed a group of young women from a flight bound for Ibiza before take-off, after four other sets of passengers asked to be moved to keep away from the group, who seemed to be drunk and abusive on Thursday (15 September).
Eye-witnesses allege the three women, apparently from the Liverpool area, used racist language and threatened other passengers. The claims of racism have not been confirmed.

Monarch Airlines Flight ZB504 was scheduled to depart Manchester Airport en route for the Balearic island on Tuesday evening (13 September). Police were called at around 19.10 BST due to the behaviour of the women.
A spokeswoman for Greater Manchester Police said: "Shortly before 7.10pm on Tuesday, 13 September, police were called to Manchester Airport for assistance. Four women were removed from a flight. No further action was required."
Passenger Amber Ferguson, from Old Trafford, who posted pictures of the women on Facebook, told Manchester Evening News: "Everyone on the way to Ibiza gets merry and loud but it's usually just fun banter. They took it to a whole other level by using extremely racist words and threatening people. They caused nothing but trouble and verbally abused everyone in their path."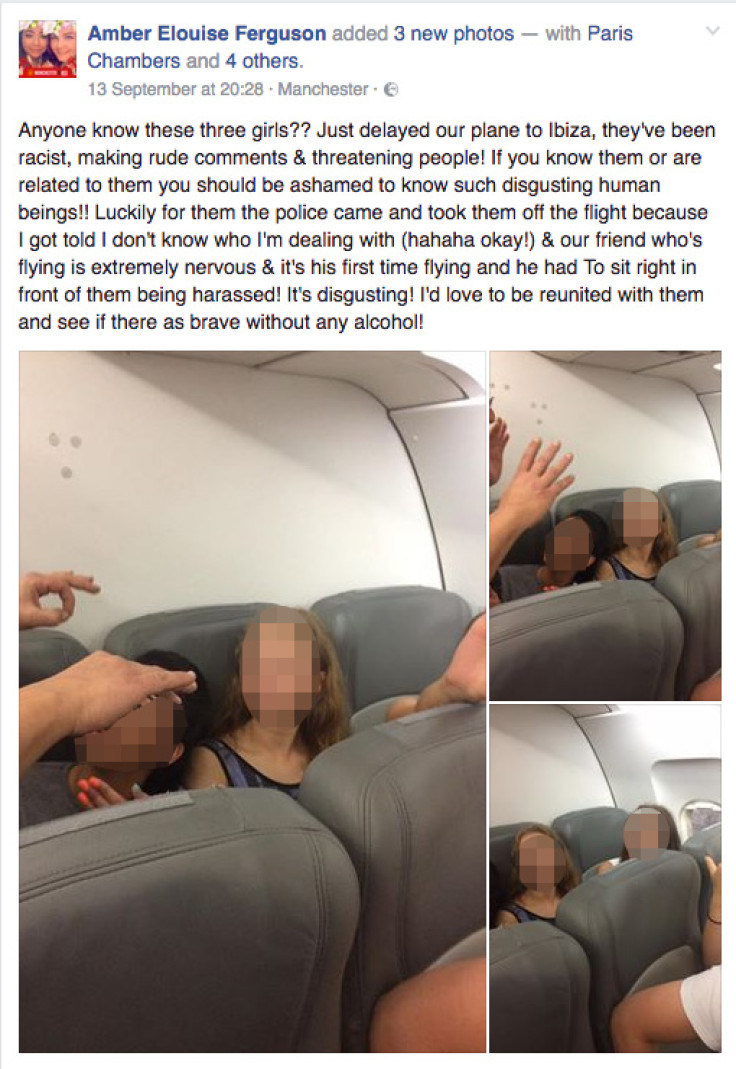 A spokesman for Monarch Airlines said: "Monarch takes a zero tolerance approach to disruptive behaviour on board all of our flights. The safety and security of our passengers, crew and aircraft is our absolute priority."
There have been a number of similar incidents in recent years, including several where drunken passengers caused planes to be diverted. According to BBC figures, 442 people were held on suspicion of being drunk on planes or in airports between 2014-2016.
New transport minister Lord Ahmad has vowed to stamp down on such incidents, making it harder to buy alcohol before a certain time or to board a plane while drunk.
Lord Ahmad said: "I don't think we want to kill merriment altogether, but I think it's important that passengers who board planes are also responsible and have a responsibility to other passengers, and that certainly should be the factor which we bear in mind."
© Copyright IBTimes 2023. All rights reserved.