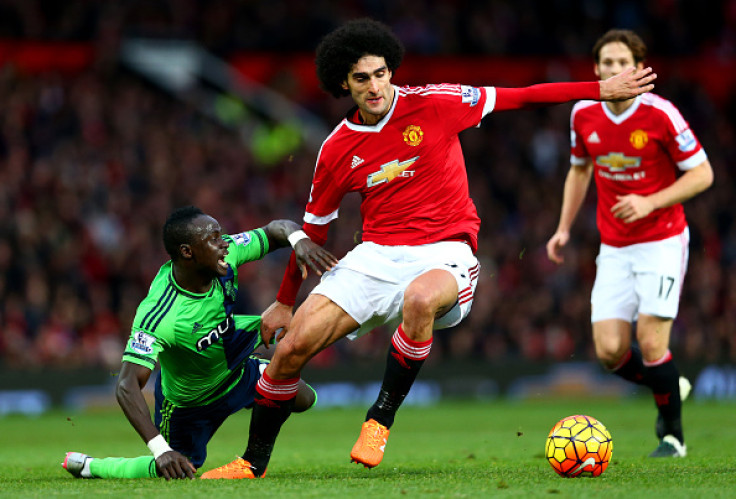 Manchester United manager Louis van Gaal has revealed that the substitution of Marouane Fellaini and the injury to Matteo Darmian were the main reasons for the loss against Southampton on Saturday (23 January). Charlie Austin scored on debut for the Saints from a set-piece and the manager believes that the loss of two potential headers of the ball left them vulnerable during set-pieces in the second half.
The Belgian was substituted by Van Gaal at the start of the second half with Juan Mata coming on, as the manager wanted his team to control possession more than they did in the first half. The Red Devils, however, were unable to maintain their momentum from the opening period and succumbed to a late goal, which condemned them to a sixth league defeat of the season.
The 20-time English champions had just one shot on target during the entire duration of the game, and the manager conceded that their opponent's formation and the constant need to press for the ball were the reasons for the lack of chances. Wayne Rooney and Anthony Martial had just two touches in the Southampton box between them and that shows the lack of penetration from the home team, who are now five points behind fourth placed Tottenham and 10 points behind current league leaders Leicester City.
"It is difficult to create chances when you are so tactically busy with pressing each other and putting pressure on the ball," Van Gaal said, as quoted by the Manchester Evening News.
"Because I want to change that I put Mata in because then we keep the ball much easier. And in the first 15 minutes I thought it was better."
"But every change I have made today, I knew in advance that when we had a set play we have a problem. When you change Fellaini, and Darmian is going out, then you have lost two headers and we don't have a tall team. With the changes I realised that but I hoped for more," the Dutch manager explained.
Darmian, meanwhile, remains hospitalised with the club yet to reveal the true extent of his injury after the right-back was seen spitting blood following a nasty collision with Saints forward Shane Long. The manager has admitted that he could have a problem with his ribs.
"Probably there is something wrong in one rib and also the chest but we have to wait and see. It was not a nice view for the players to see that. Darmian is bad because he is now in hospital," the manager added, as quoted by ESPN FC.