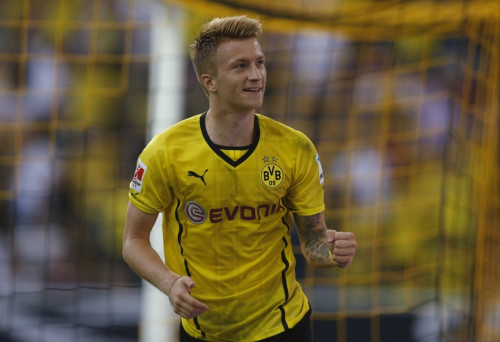 Manchester United and Arsenal's hope of signing Marco Reus has suffered a blow after the midfielder admitted that he will not leave Borussia Dortmund in January.
The 24-year-old has been a transfer target for the Premier League champions, while their league rivals Arsenal have also long maintained their interest in the German international. Reus has a €35m release clause in his contract and was reported to make a move to England in January.
David Moyes is keen on strengthening United's midfield and was looking for a swap deal, which includes Shinji Kagawa re-joining his former club to see Reus move to Old Trafford. However, Dortmund star has put the recent speculation surrounding his future to bed and insisted that rumours are surfacing because of his achievement for the Bundesliga outfit.
"I have a valid contract with BVB and am happy to be here! I can only say to all: I do not think about. Anything other than Dortmund at this time is far away," Reus told German newspaper Bild.
"To be honest, I read something very little. But if you will notice there are times that there is interest here and there, which is quite an achievement," the German midfielder added.
Reus was the integral member of Jurgen Klopp's side last season, despite losing both Bundesliga and Champions League to the eventual winners Bayern Munich.
The German midfielder is keen on emulating last season's form as he has set his eyes on winning the European competition with the club and the World Cup with the national team. Dortmund have progressed to the Round of 16 of the Champions League and they face Russian club Zenit St Petersburg for the knockout round of the competition.
"These are two very big goals and both are not entirely unrealistic. Who knows what we can achieve in the Champions League. Nobody thought we could make it to the final last season either," Reus said.
"We finally want to win the World Cup again with Germany and will have to show our ambition right from the start of the competition. We will prepare meticulously for this amazing tournament," the Dortmund star concluded.