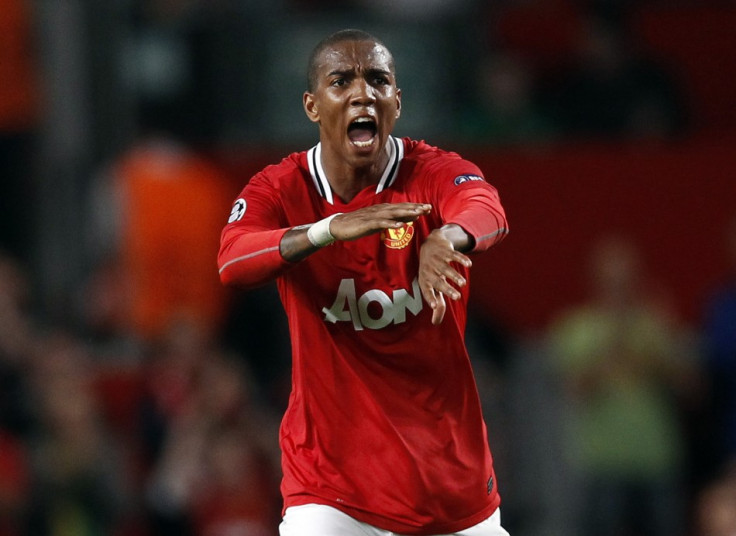 Manchester United winger Ashley Young has claimed he too has experienced racial abuse on a football pitch and it happened when he was 11 years old. He added that instead of crying, reacting violently or walking off the field, he went on to score a brace in that game. Young, who was born in Stevenage and raised in Hertfordshire, recalled the incident as the worst experience he ever suffered in his life.
"It happened when I was a youngster and playing in a Sunday game. I was 11 years old and I was racially abused on the pitch by another player of the same age. I'm not sure what happened to him but I'm sure the matter was taken up by the managers," the Express quoted Young as saying.
It did not end there though. Young encountered racism again, this time in a qualifying game for the 2012 European Championships, in Sofia last September. The player, along with Ashley Cole (Chelsea) and Theo Walcott (Arsenal) were subject to racial abuse by the audience during their clash against Bulgaria. Although, Bulgaria's coach Lothar Matthäus later apologised to the trio, UEFA still slapped a fine of £34,000 on the Bulgarian Football Association. Young later claimed that once again the incident did not affect his performance.
"It didn't affect me [against Bulgaria]. I can't speak for the other players. I had to block it out in that game and get on with it. The FA and UEFA dealt with it afterwards," the Independent quoted Young as saying.
Sadly, despite efforts by football officials, the issue of racism lingers on and threatens to be a major concern during the ongoing European Championship in Poland and Ukraine. The 26 year old United star reiterated he would not react if targeted at the Euros, he admitted he would be disappointed if similar incidents happened again.
"It's one of those things we shouldn't be sat here talking about in this day and age. It should not happen but, unfortunately, it does. Hopefully we won't hear it in this tournament. UEFA, now, have taken it into their hands and said they'll deal with the matter," the Daily Mail reported Young as saying. The player did add that he was more excited about the prospect of playing in the Euros and carrying over the form that has seen him score five goals in seven games for his country than worrying about racial abuse.
"Every other tournament has been nice to watch but I was sat there watching the opening games on Friday and felt the adrenalin run through my entire body," the Sun quoted Young as saying, and adding, "I'm full of confidence and just excited about getting to Monday. I'm used to the pressure, I'm used to the expectation. When you play for Manchester United, you have that every week."
Meanwhile, against the backdrop of comments made by Manchester City striker Mario Balotelli, UEFA president Michel Platini announced that any player who walked off the field due to racial abuse would be shown a yellow card.