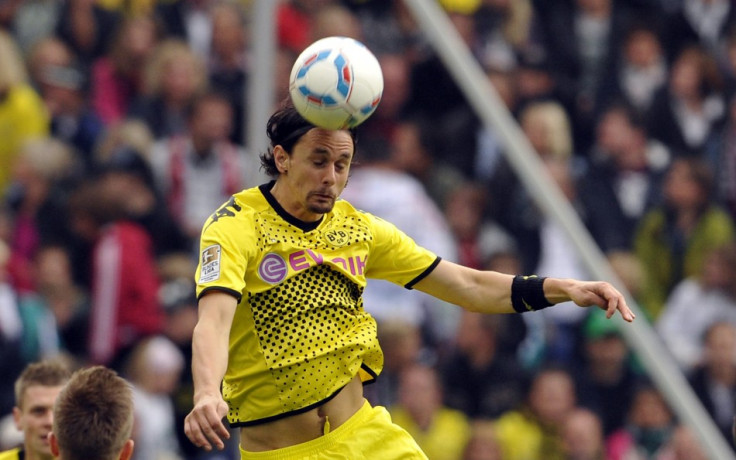 Manchester United have been boosted in their pursuit of Neven Subotic, with his agent insisting that there has been no interest from Roma in the star defender in preparation for the January transfer window.
Subotic has starred for Borussia Dortmund since signing to the club in 2008, and has attracted attention from numerous sides around Europe, particularly after his performances helped the German outfit qualify for the Champions League this season.
But as the German outfit look set to exit the European tournament in the group stages, speculation has surfaced again that Subotic might be on the lookout for a club with more ambition.
Manchester United have long been connected to the 22 year old, particularly after Sir Alex Ferguson admitted that Rio Ferdinand is no longer guaranteed a starting spot with the Red Devils after some disappointing performances this season.
And Roma, who are currently sixth in the Serie A table, were also linked to Subotic, but agent Stephen Kelly insists that any talk of a move to Italy is not true.
"This news is new to me," Kelly said.
"Roma had spoken in the past but at present there is nothing at all. Roma is not in the thoughts of Neven and we have not had relations with them. He will not leave Borussia Dortmund. It is a story without foundation."
Neven began his career at German side FSV Mainz 05, before making the move to Dortmund in 2008 on a five year contract. Chelsea were reportedly interested in the star, and had a £17.5 million bid for his signature turned down in January.
But now that United are also interested in Subotic's services, it might be a different story, particularly if he wants to leave the club for greener pastures.
United have insisted that they are happy with their defensive line up, but Phil Jones is still making rookie mistakes, one of which was obvious in the club's shock 2-2 draw with Benfica during the week.
And with Roma not showing any interest in the Serbia international, United have even more chance of bringing Subotic to Old Trafford.
And with Ferdinand currently 33 years old, support will be needed as United look to challenge Manchester City for the domestic title, and Barcelona for the Champions League trophy.