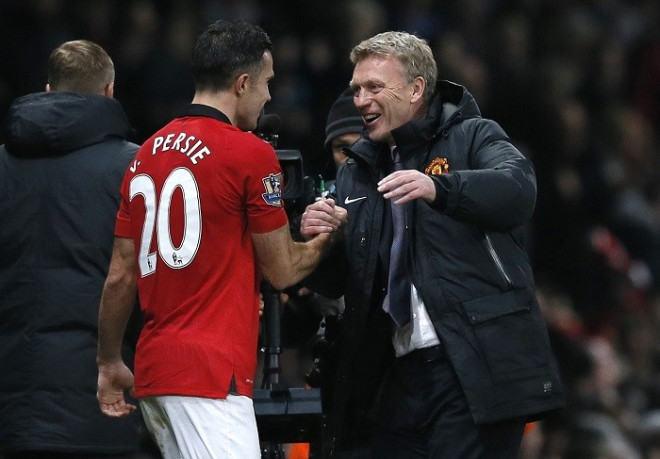 David Moyes has a crucial summer ahead of him in deciding which players to bring in and which players to let go in his Manchester United squad, and one player who is already the subject of frenzied media speculation is star striker Robin van Persie.
The Dutch striker has had a lacklustre season by his standards suffering with several injuries which have limited his appearances and he has been criticised by some United fans for his performances. However his record is certainly impressive, scoring 17 goals in 25 appearances for the champions.
So, why are the fans and the media questioning the future of the Dutchman? Well after their 2-0 victory at West Ham last Saturday the keyword has to be balance. With Van Persie not in the squad - he is facing up to six weeks out with a knee injury - it allowed Moyes to pick a team which looked far more natural in its make-up.
Moyes played Wayne Rooney as the central figure in attack with Juan Mata in his favoured No 10 position in behind,with two conventional wingers either side.
The effectiveness of the team was clear for all to see as United dominated from the start and could have won by a far more convincing scoreline. Mata pulled the strings throughout while Marouane Fellaini had his best game since his big-money move from Everton last summer.
The dilemma Moyes faces is trying to find a way of fitting all of his star players into the same team, playing in their favoured positions where they are most effective. Van Persie, Rooney, Mata and Adnan Januzaj are all vital players, but if they are all selected in the same team at least one is forced from their best position. So, simply put, it could be a wise decision to sell one of these players and the only one you would currently consider offloading is Van Persie.
The 30-year-old sometimes finds himself on the periphery of matches, which is absolutely fine if he finds the net when he gets a chance. Despite scoring a hat-trick in the recent match against Olympiacos, there have been too many occasions where Van Persie has missed crucial chances this season. However, there is no doubting his goalscoring abilities as his record proves.
Since signing from Arsenal in 2012 for £24 million, Van Persie has lbeen United's star player, but since David Moyes took over from Sir Alex Ferguson his role has undoubtedly changed. Moyes seems to favour Rooney over the Dutchman and this has not sat well with Van Persie. He made some disparaging comments about his teammates after the first leg defeat to Olympiacos in the Champions League, which United fans and players will not forget in a hurry.
Moyes must look at the alternative options he has available to him if he does make the decision to sell Van Persie. Rooney can fill the main striker void perfectly, which would also mean Mata could move in behind the striker to his favoured position. It would also mean Danny Welbeck would have a more important role, which he fully deserves after impressing in recent weeks. In certain matches you could play him as the striker or he can be equally effective from the left wing. It would also mean Javier Hernandez would get more playing time and when the Mexican is sharp he is arguably the best natural finisher in the Premier League.
Whatever happens this summer, Moyes must stand up and make some key decisions. He cannot allow the reputation of a player to overshadow his ultimate goals for the club and must have no regrets when he leaves the club, whenever that may be. Van Persie could be a major stumbling block for Moyes this summer and it will be very interesting to see how he handles the delicate situation.
Luke Gardener is a lifelong Manchester United fan and a regular writer on the club. You can follow him @LukeGardener82.
The article was kindly provided by Man United World, one of the biggest United fan resources on the web. You can read more of their articles at TalkingUnited.com or follow them @ManUnitedWorld.