The name Bruno Gomes might not mean much to most Manchester United fans but that could soon change as the Brazilian striker hopes to make a big impact at Old Trafford.
Manchester United's deal with Brazilian club Desportivo Brasil gives them the first option on the best young talent coming through the youth ranks, and Gomes is said to be one of the finest.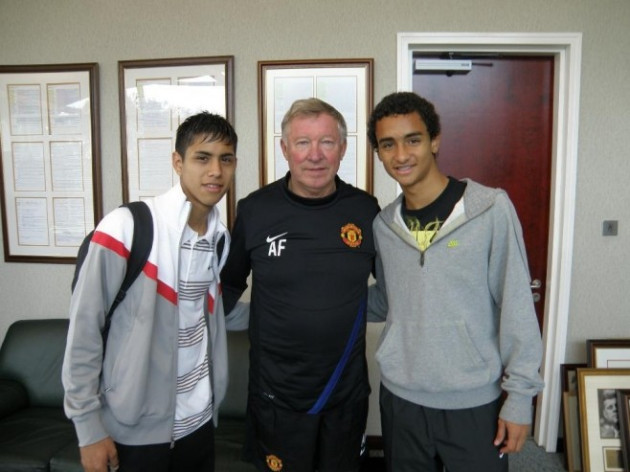 The 16-year-old forward was the top scorer in the Sao Paulo Under-17 State Championship this season and has already been sent over to Manchester in order to train with the young squad at Carrington.
A fee is already said to be in place and the teenage striker could soon be joining Manchester United on a permanent deal that would see him follow in the footsteps of the Da Silva brothers and Rodrigo Possebon.
In one of his first interviews, Bruno has spoken to a Manchester United fansite in Brazil and revealed what it was like to meet Sir Alex Ferguson for the very first time.
"It was nice. He is a legend in Manchester, where everybody respects him and to be close to him was great," Bruno told oldtraffordbr.com. "In fact, he asked about my position and if I spoke English. Then he talked with the club representative who led me to Manchester."
Bruno was able to spend some time at the Carrington training complex where he admits he was left feeling star struck when seeing some of the United first team players .
"Here we have breakfast and lunch along with the first team players. We also train in the same place, in separate fields, but we watch their training sessions from some distance," said the young striker. "It was great to be at the same table as Giggs or Rooney, isn't it? You can imagine how I felt!"
The forward admits that he is unlikely to actually make the move to Manchester United until he turns 18, however, he has spoken about the goals he has set for when he eventually becomes an official member of the Premier League side.
Bruno said: "My goals are to be top scorer in the league, being the first Brazilian to do so, mainly to be English champion and to win the Champions League. This is my dream, hearing the crowd singing "Champeone, champeone, ole ole ole!"