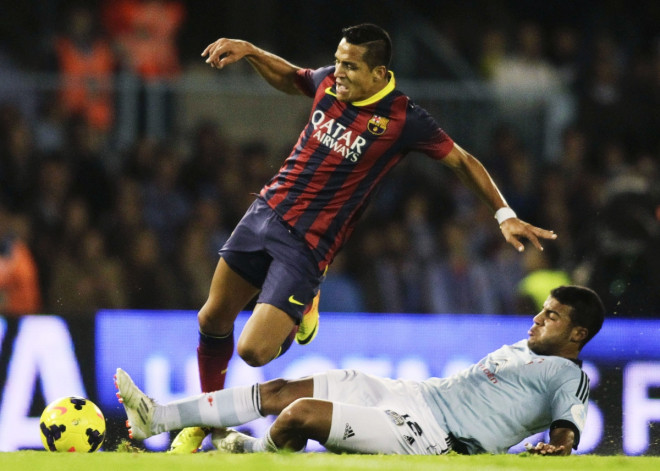 Manchester United and City are reportedly ready to meet Rafinha Alcantara's £25m release clause, with Arsenal and Liverpool also monitoring the Barcelona prodigy.
The 21-year-old forward is considered the most exciting product of the Barcelona academy, alongside Everton loanee Gerard Deulofeu. The winger is currently on loan at Celta de Vigo where he is proving to be a sensation in his debut campaign in La Liga.
Spanish newspaper Mundo Deportivo reports that Manchester United boss Davis Moyes has earmarked him as one of his main summer targets, and both him and City manager Manuel Pellegrini are set to meet the £25m buy-out clause in his contract.
After failing to secure the signing of his brother Thiago, who decided to move to Bayern Munich last summer, the United boss is desperately trying to convince Rafinha to come to Old Trafford.
While Deulofeu was sent on loan to Everton, Rafinha moved to Celta to gain first team experience and has proved he is ready to make a return to the Nou Camp. Last season, he scored 10 goals and grabbed eight assists for Barcelona's second team while, after a shaky start at Celta, he has netted one goal and grabbed four assists in his latest 10 domestic league apperances.
Nevertheless, Rafinha, who has a contract with Barcelona until 2016, has told the Catalan side that he will go back to Gerardo Martino's side only if they assure him of a pivotal role in the squad.
But with Lionel Messi, Neymar, Alexis Sanchez and Pedro Rodriguez in his position, Rafinha's chances of playing for the Spanish giants look uncertain and he may be tempted to follow the steps of his brother and force an exit.
The player's father, Brazilian World Cup winner Marzinho, recently revealed that his dream is to succeed at Barcelona, although he may be consider another season-long loan spell before returning to the Nou Camp.
"He is a Barcelona player, but we don't know what will happen in the future, if he will return or be loaned again" Mazinho said.
"But Rafinha is working hard to play for Barcelona in the future."