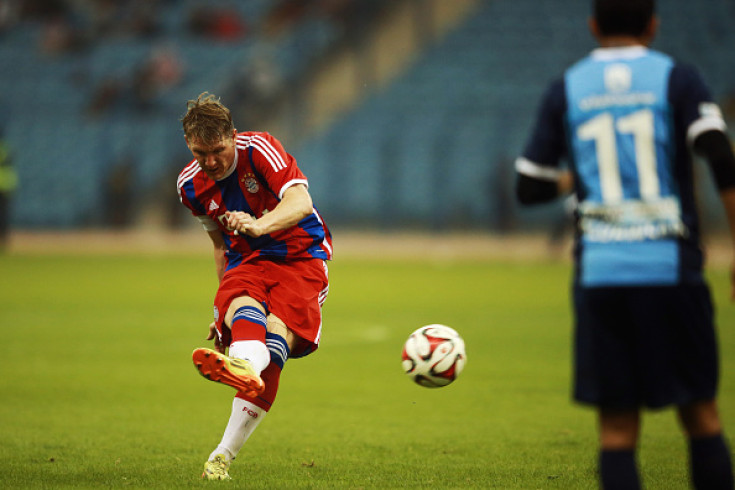 Manchester United are close to completing the signing of Germany midfielder Bastian Schweinsteiger after agreeing terms and a fee with Bayern Munich, according to German publication Bild.
The report states that a fee close to £15m ($23m) has been agreed between the two parties and a move to Old Trafford is imminent for the Bundesliga legend.
Schweinsteiger has only a year left in his current contract, and both sporting director Matthias Sammer and manager Pep Guardiola have insisted that his future rests in his own hands. The midfielder made only 28 appearances in the last campaign, scoring five goals in the process.
The World Cup winner has been handed a three-year contract under Louis van Gaal, who has previously worked with him during his time at Munich.
He will add some much needed experience in the middle for the Red Devils, with Michael Carrick entering his mid-thirties and not being a first choice in the team any more following his injury-ridden campaign last season.
The news comes days after Bayern chairman Karl Heinz-Rummenigge confirmed that he will be in talks with the player following his arrival from summer break to discuss his future. He reaffirmed that any decision to leave will be on the player and the club will not have any bearing on his future.
"I make no secret about it that, in our conversations, it sounds like he is flattered from the interest in England," the chairman said, as quoted by Goal.
"I talked to him during his vacation. We will meet each other, when he is back.
United are also close to completing the signing of Matteo Darmian from Torino, with the manager confirming that he is on his way to Old Trafford for his medical and the move would be made official soon.
This would be their second major signing of the summer after Memphis Depay, who they procured from PSV Eindoven in May.