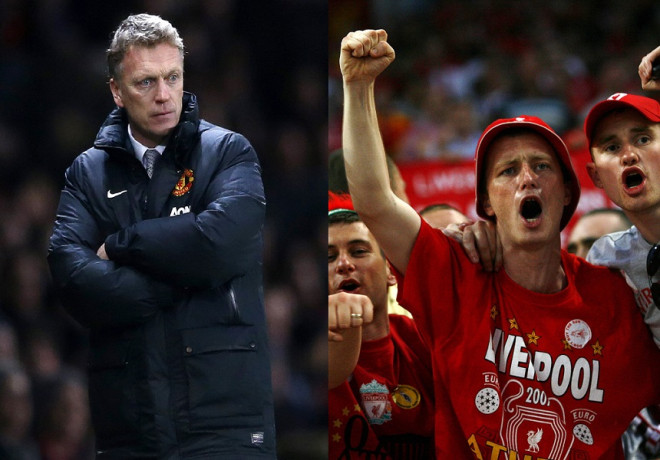 Following Manchester United's insipid display in Greece on Tuesday, things could not get much worse for David Moyes. But, for fans of United's rivals, the situation could not be much better.
Liverpool, Arsenal and Manchester City are all enjoying excellent seasons, and, to top it all, the club which has overshadowed them for over two decades is on its knees.
But how do these rival fans really view the situation at Old Trafford? How long can they keep gloating over United's woes, before sympathy starts to kick in?
To find out, we asked fans of United's three biggest rivals to give us their take. If you don't enjoy the sight of schadenfraude, look away now.
Ed Colenutt, Liverpool
I actually thought David Moyes would do quite well when he was appointed, but he's turned out to be the best United manager a Liverpool fan could have hoped for! You can say with some certainty that a top four finish this season is out of reach for them now, even if Liverpool, Spurs & Everton were to all slip up majorly I can't see a club that has picked up five points in their last four games being in a position to take advantage. The one lingering concern has been that Liverpool finish fourth but Utd manage to win the Champions League, but after the defeat to Olympiacos that is looking extremely unlikely now too.
It was inevitable that there would be a transition period following the departure of Ferguson, but I don't think many people expected United to slide down the table as far as they have. There has to be a real possibility of Moyes losing his job this summer - especially if he can't beat Everton in the race for 6th place. Personally I'd like to see him stay, like I say I thought he had the right attributes to do well at United, but he seems to have lost the support of the fans and also some players - I can't see them turning things round whilst he remains at the helm.
Ed Colenutt writes for Kopworld, one of the world's most authoritative websites on Liverpool FC and its fans. Visit the Kopworld website or Twitter page for more info.

John Henson, Arsenal

It's hard as a fan of a rival team not to have enjoyed a few moments of schaudenfreude at Manchester United's expense this season, but for all but the most stoney-hearted, that must now be starting to be tinged with just a tiny amount pity. I turned 30 last year and this is the worst Manchester United team I can remember watching. On paper, United have some first-class forwards, but not much more. This squad of players that was good enough to win the title last year now look decidedly average, the fans are despondent and starting to turn their wrath on Moyes.
You can respect the club for sticking with Moyes, but it's not easy to defend the way he has been setting up the team. United's performances have been lacklustre in the extreme - one gets the feeling that he has tried to replicate the tactics that served him reasonably well at Everton, with a squad that doesn't suit it. Getting the wingers to drop in and the full-backs to push up might be Moyes' way, but it is not the United way, and sticking rigidly to it even when playing Smalling at right back is senseless.
Many of United's fans have probably known little other in their lifetimes than constant success, but it's the bitter taste of failure and mediocrity that makes success so sweet. United are a team in transition, a huge club in need of careful management and a thorough squad rebuild, but in time they will be back. I'm not going to pretend I'm not happy to see them sink down the table. I'll never forget the day Arsenal were kicked off the pitch at Old Trafford and cheated out of their 50th invincible match. The bad news if you're a United fan, is that if you view this downturn as some sort of karmic payback or divine retribution for years of privilege, impartiality and gloating, you have a lot more to come yet - so let us enjoy it, while it lasts.
John Henson edits and writes for long-form football blog Proven Quality and runs a network of football news aggregation sites, including Arsenal News. He tweets under the @provenquality handle.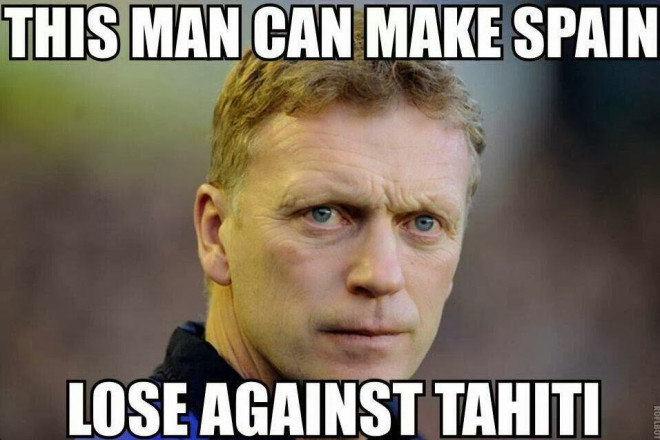 Nigel Kendall, Manchester City
The late American writer Gore Vidal probably summed it up best. "It is not enough to succeed," he said. "Others must fail."
Manchester City fans cannot believe their luck. First, thanks to the so-far boundless beneficence of an Arab oil sheikh, City have won their first trophies since 1976. They are successful, and a generation who grew up waving bananas then watching the likes of Lee Bradbury (for City fans, the Rs in his surname are optional) 'lead' the line, are pinching themselves. Not long ago, many of them thought they might die before City won anything again. Now, City's next success is the reason to stay alive.
United's apparent collapse is the cherry on top. Not since United were relegated in 1974 have we had this much fun at their expense. We enjoyed a brief late 70s period of superiority that came to a swift end with the second coming of Malcolm Allison. We've watched as United took advantage of the Premier League money and exposure to become a genuinely global brand. We've seen a thrilling last-minute promotion-winning comeback against Gillingham in 1999 slightly overshadowed by United lifting the European Cup four days earlier. We've watched as the British media play the "how low can we go" game in their rush to genuflect at the feet of Sir Alex Ferguson.
But now he's gone. And it's payback time.
Nigel Kendall is a lifelong Blue and senior sub-editor at IBTimes UK.