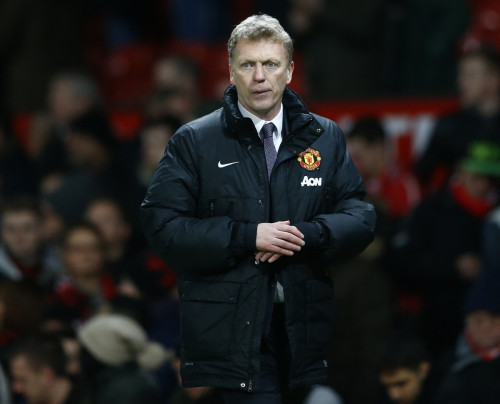 Few teams have been thrust under the spotlight as much as Manchester United this season. The reigning champions' struggles have been well-documented, with the side now lying seventh in the Premier League and 15 points behind leaders Chelsea following an insipid 2-2 home draw with Fulham.
The champions' fall from grace following Sir Alex Ferguson's departure has been spectacular, and the team now faces the real prospect of no European football at all next season, with title hopes having long since been extinguished. Exits from the domestic cups have compounded supporters' misery, and any chance of silverware now rests on the impossibly far-flung prospect of winning the Champions League.
Myriad reasons have been put forward for United's disastrous season – the retirement of Sir Alex Ferguson, the failure to replace Paul Scholes, injuries to key players and underperformance of others have all been cited.
Curiously lacking, however, is any real criticism of the manager himself. At other clubs, a string of poor performances will inevitably attract fans' ire towards the manager, and yet David Moyes has led a charmed life - protected by the endorsement of Ferguson and prevailing fan sentiment that his successor should be backed through thick and thin.
This rosy-eyed view of the manager's infallibility has to stop. It is hard to imagine Moyes lasting this long at any other top four club – can you imagine Chelsea or Manchester City backing their manager following the kind of season United are having? No, thought not.
United fans often cite the example of Ferguson, who endured several fallow years at United before enjoying success, but this ignores the fact that the two managers are in very different situations. Ferguson inherited a team of hard-drinking underperformers, whilst Moyes has inherited a team of serial champions.
Whilst I may be accused of short-termism here, the fact remains that a failure to qualify for the Champions League would be disastrous for the club. As many have suggested, the solution to United's problems is not a question of changing formation, mentality, or tactics. There is a much easier solution available, and it is staring us in the face. To save United's season, David Moyes should be sacked – and he should be sacked now.
Many pundits and fans have used the team's general decline as a shield to protect Moyes' performances – and granted, it is true that United's squad is in significantly worse shape than last year. Key players such as Ferdinand and Vidic are clearly in decline, whilst previously strong performers like Rafael have failed to replicate last season's form.
Despite this, United retain considerably more world-class players than the teams currently surrounding them in the league. A squad featuring Rooney, van Persie, Mata, Januzaj, Carrick and De Gea is nothing to be sniffed at, but it is currently trailing four points behind Everton, whose own starting line-up features the decidedly less stellar Steven Naismith. The failure to get the best out of these multi-million pound players can only rest with the manager.
The 2-2 draw – which felt more like a defeat – against Fulham was an apt demonstration of Moyes' managerial failings. His tactics consisted of pumping cross after cross into the box – a staggering 81 in total – against one of the tallest teams in the league, who rarely looked threatened by such a tactic. Despite this approach failing to pay dividends Moyes dogmatically persisted with it, playing a staid 4-4-2 that clearly failed to draw the best out of United's considerable attacking riches. Fulham were not exactly scintillating opponents, but United managed to exceed them in sheer toothlessness.
This tactical failure throws another one of Moyes' decisions into sharp relief – his appointments to United's coaching staff. When Ferguson stepped down at United, he left a team of world-class coaches behind, universally respected and admired for getting the best out of players.
Robin van Persie was effusive in his praise of first-team coach Rene Muelensteen, describing him as one of the best coaches he had ever worked with; high praise from a striker who had spent the majority of his career under the tutelage of the coaching staff at Arsenal. Similarly, goalkeeping coach Eric Steele has been credited with overseeing David de Gea's remarkable transformation from a skinny, error-prone reincarnation of Massimo Taibi into one of the most reliable and talented goalkeepers in the Premier League.
Both coaches, along with Ferguson's trusted lieutenant Mike Phelan, were unceremoniously canned in favour of Moyes' own appointments from Everton. Whilst it is a valid point that a manager must try and impose his own authority on the club, especially when replacing a manager of Ferguson's stature, it is hard to see the appointment of Phil Neville as Rene Muelensteen's replacement as anything other than a crime.
Just let that sink in for a moment. Moyes replaced one of the most experienced and respected coaches in Europe with a man who had never coached before. That one decision is United's season in microcosm; an imperfect storm of naivety and addled thinking. Such an appointment at a club of United's stature is unforgivable – and the buck stops entirely with Moyes.
Moyes is a good manager, with a lot of strong attributes. His work ethic cannot be faulted, his record at Everton speaks for itself, and he has continued United's excellent record of nurturing youth by overseeing the excellent Adnan Januzaj's breakthrough into the first team.
But it is clear to see that the United job is beyond his capabilities; his ambition, tactics and motivation have all been found wanting. The steely, determined and confident figure we knew from Everton has been replaced by a man more akin to a worried father standing on the touchline of an under-11s game, powerless to stop his son from being second to every ball. Moyes' post-match rhetoric has become increasingly hopeless and he is quickly running out of answers.
It is time to put him out of his misery and make a change before it is too late.
Ryan Platt is a lifelong Manchester United fan, a season ticket holder at Old Trafford and a regular contributor to United fan blogs.