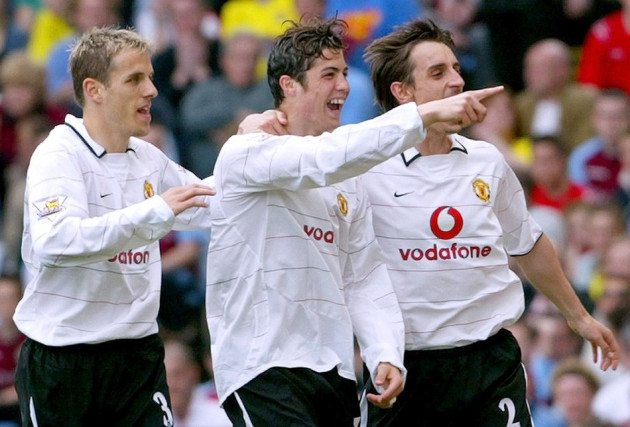 Manchester United coach Phil Neville has revealed how the club's seasoned veteran's toughened up Cristiano Ronaldo upon his arrival at Old Trafford by ensuring he was kicked "every day, every week, all season."
Neville, now part of David Moyes' coaching team, was nearing the end of his 15 year spell at the club when United secured the services of the skilful Portuguese winger in 2003 who would one day go on to be one of the greatest players on the planet.
A facet of Ronaldo's game that proved to particularly irksome for neutrals in his early days in the Premier League was his tendency to go to ground easily, something that also earned the teenager the ire of United's battled hardened midfield trio of Nicky Butt, Paul Scholes and Roy Keane.
Speaking in an ITV documentary, Neville explained how the club's senior players regularly kicked the prodigious youngster throughout training sessions in a bid to toughen him up for the realities of the Premier League, and eradicate diving from his game as much as possible.
"He dived a lot," Neville said. "He tried to buy fouls and he came in for a lot of criticism. The boys were hard on him for his diving and it was putting us under pressure.
"I'd say the first 12 months there was massive toughening up process. In training at the time you had Keane, Butt, Scholes, and every time he got the ball they kicked him and they kicked him, not just once, they kicked him every day, every week, all season."
The tough love treatment would have its desired effect on Ronaldo, who never failed to impress Neville on the training ground.
"I would see him take a ball and run around the whole of the Carrington training complex, developing his skills, developing a trick to beat a defender... it's probably a mile and a half around the complex, and he did it every single day."
Neville left United in 2005 to enjoy another eight seasons under David Moyes at Everton, before joining his boss at United as part of his coaching staff.