As Manchester United tumbled down the Premier League table last season, so did expectations. It was probably the best thing for a club in need of an urgent reality check. As Roy Keane rightfully pointed out on Tuesday evening (9 March), the size of the task at hand – restoring the club to the upper echelons of the English game – remains one of the most sizeable in world football.
The £150m spent last summer only begins to address the problems that run deep through a club whose decisions in the transfer market since 2009 have bordered on the negligent. Hopes of the club immediately re-establishing itself in the Premier League's heavyweight division were quelled weeks into the start of the season by the majority. But amid this readjustment of belief, one thing was still pertinently expected throughout the season. Progress.
But even that has come at a premium this term. For every confident step forward the club have taken this season, they've soon taken two drunken stumbles back. In no other match was this encapsulated more gaudily than against Arsenal on Tuesday.
It all started so well. Louis van Gaal's side enjoyed a first half playing with a verve that has been absent from their performances all year. Arsenal responded with their own high tempo performance, but as the home side ended the half in the ascendency, there was a renewed positivity emanating around Old Trafford.
Then, the changes came. While Luke Shaw's withdrawal may have had something do to with the fullback's recent hamstring problems, van Gaal's attempts to tighten things up with Michael Carrick replacing Ander Herrera predictably slowed things down.
With Daley Blind and now Carrick occupying deep midfield roles, the space between the two and those ahead of them widened, stifling that first half dynamism which was replaced by the lifeless possession game we've become accustomed to. In the space of five minutes, United's progress had evaporated.
That wasn't the only familiar pattern unfolding. Plan C has quickly become Plan A at Old Trafford. Marouane Fellaini has dutifully carried out his orders playing in advanced position this season, repairing his beleaguered reputation in the process. But his continued presence in the number 10 role ahead of Juan Mata is a further indictment of the stale offerings from the club at this moment.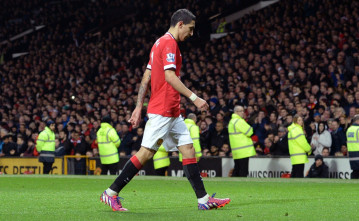 Perhaps most bewilderingly, the sight of long balls being pumped into the direction of the big Belgian naturally clashes with the idea of van Gaal's 'philosophy' of possession football above all else. It doesn't make much sense.
While it was a moment of stupidity from Antonio Valencia followed by another two from Angel di Maria that put United on their back foot, their limitations in chasing the game were brutally exposed in circumstances where they have traditionally thrived.
The last time United were made look this ineffective in pursuit of an equaliser at home was their 1-0 loss to Southampton in January.
In games against the two best sides United have faced this year, they have lost both. Last night, United's downfall was unaided by their manager stifling their briefly rediscovered zeal. But they ended it the way they ended the game against Southampton; rudderless, clueless and not looking like scoring any time soon.
Elimination from the FA Cup allows United to focus solely on a top four finish. But the limitations we saw in the second half against Arsenal are more than capable of being exposed throughout March and into April. Tottenham (H), Liverpool (A) Manchester City (H) and Chelsea (A) in four of their next five fixtures will ultimately decide their fate.
United could well take another couple of steps forward in that time. But it may not be enough for them to keep pace with those around them in the pursuit of a top four finish.