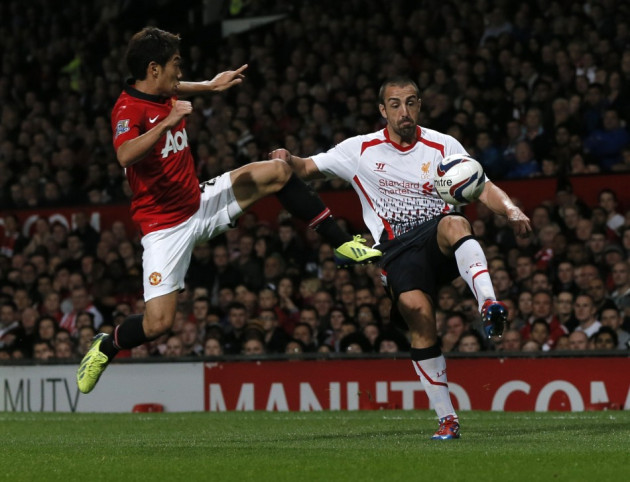 Former Manchester United defender Gary Neville believes fans can expect further appearances from Javier Hernandez and Shinji Kagawa after both players made a telling contribution in the League Cup win over Liverpool.
Kagawa has struggled to receive game time for United since David Moyes was appointed as manager, though his pre-season preparations were interrupted by international obligations.
Fans were particularly critical of Moyes when the Japan international didn't feature in the 4-1 thrashing to Manchester City.
Hernandez's earned his first start of the season and scored the winning goal as United secured passage to the fourth round and as fulcrum of United's season starts Neville expects Moyes will begin to rotate as FA Cup, Capital One Cup and Champions League commitments pepper their Premier League fixture.
He told Sky Sports: "I think over the next couple of weeks with the next round of the Capital One Cup, the Champions League game against Shakhtar Donetsk and League games coming thick and fast, Moyes is going to have plenty of games to rotate his squad.
"Early on in the season when he had the likes of Liverpool, Chelsea and Manchester City - he wanted to play a consistent team to try and get through that difficult period.
"They've probably been a little bit below par with the results in the way in which they've gone, but now I think you'll see a lot more of the lads that played tonight intermingled with the team.
"I think you'll see them on Saturday, I don't think he'll go back to the Manchester City team, I think it will be a mixture of tonight's team and the team that played in the derby."
United were disappointed to take only one point from their matches with Chelsea, Liverpool and City and the side are currently eighth in the table and five points off top spot as a result.
But their 1-0 win over the Reds in the League Cup last night was a step back in the right direction for a side who are working to move on without Sir Alex Ferguson in the dugout for the first time in 26 years.