One of the strangest things about Manchester United this season is that no-one seems to be talking about the Glazers.
United are set to finish outside the top three for the second successive season, and the squad is alarmingly threadbare, with several key players looking as obsolete as Ed Miliband's stone tablet. Fans may be celebrating a top-four finish, but that in itself is a damning indictment of the club's decline since the halcyon years under Sir Alex Ferguson.
People have blamed David Moyes, they have blamed Louis van Gaal, they have blamed chief dealmaker Ed Woodward. But no-one seems to be blaming the Glazers, the family who ultimately call the shots.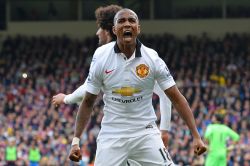 Perversely, when United were dominant five years ago, reaching Champions League finals and finishing first or second in the league every year, the Glazers were even more reviled at Old Trafford than Alan Shearer. They were accused of mortgaging the club's soul, of leeching millions of pounds to fund their parasitic ownership, of foisting themselves on the club and making fans pay for the privilege.
So, why the change? Well, there are two key reasons. The first is that the Glazers have finally started spending big money. Most of last summer's marquee signings have disappointed; the fact that United have regularly fielded the most expensive bench in Premier League history this season demonstrates as much. But you can't fault the owners' willingness to splurge any more.
The second reason is that the Glazers' ruthless commercialism has come to be seen as a blessing, not a curse. The endless sponsorship deals have led to some rather gauche spectacles. Wayne Rooney's cameo in an ad for United's official wine partner plumbed new depths of cringeworthiness, but most fans recognise that the deals with Adidas and Chevrolet, not to mention Mr Potato and Kansai Paint, have equipped United with the means to outbid their transfer market rivals, many of whom are hamstrung by Financial Fair Play (FFP). Two or three years ago United would have been unable to compete with PSG in a bidding war. Yet, when it came to the pursuit of Angel di Maria last year, it was the nouveau riche Parisians who had to back out.
Three years of hurt
This doesn't change the fact that the Glazers' ownership damaged their club in the crucial period between 2009 and 2012. During this period, United spent a relative pittance, at a time when they should have been bolstering a squad that had won the Champions League and needed only minor embellishment. The fact that Sir Alex Ferguson "replaced" Cristiano Ronaldo with Antonio Valencia - swapping an £80m player for a £16m one - encapsulates the debilitating effect of these wasted years, when the global credit crisis was clearly biting the Glazers and United paid the price, literally and metaphorically.

'United have got their recruitment wrong for years. The signings they have made just haven't worked, and there's been more money wasted this year: none of the signings made last summer has become a guaranteed first-team starter, and Daley Blind's limitations were exposed against Palace.'
Read Jason Cundy's damning take on United's weaknesses here.
Some might suggest that the struggles of Di Maria and Falcao show big-money signings don't guarantee success, and that is certainly true. But United had such a strong base between 2009 and 2012 that they could have bought from a position of real strength; they had no need for has-beens or mercenaries back then. With proper backing, Ferguson could have cherry-picked Europe's most exciting and suitable talent, and bequeathed a squad far better than the jerry-built mish-mash Van Gaal has been lumbered with.
But now it seems United are perfectly poised to become a dominant power in Europe again. In fact, with the right signings, they could even eclipse Real Madrid and Barcelona in time, such is their financial power. The Glazers' recruitment of top players may have caused fury at Old Trafford, but their recruitment of commercial partners has enabled United to steel a march on their rivals, and position themselves perfectly for the FFP age.
It's unlikely we'll ever see a statue of Malcolm Glazer outside Old Trafford. But perhaps, in years to come, the fans will find it in themselves to express a scintilla of gratitude for their owner's remorseless brand of American capitalism.