On Sunday you saw the esteem in which Steven Gerrard is held by Chelsea fans. Chelsea and Liverpool may have had their differences, but the standing ovation afford Gerrard as he trooped off the Stamford Bridge turf showed that Blues fans regard him (quite rightly) as one of the greatest players of his generation.
Whenever Gerrard played against Chelsea, everyone at the Bridge viewed him as a key man, the big threat in the opposition ranks. Yes he only scored two goals against Chelsea but he always drove his side on, always engaged Frank Lampard in a tete-a-tete. Bridge fans must often have wondered what it would be like to have the pair of them together.
Of course, Gerrard and Lampard played together many times for England, with no tangible success in terms of major trophies. But, by denying these two midfield titans the assistance of a third man in the centre of the pitch, England wasted them both. Against Costa Rica at the last World Cup, Roy Hodgson was still trying to make it work with Gerrard and Lampard together in midfield, even though both of them like to push forward and they are most effective in the final third of the pitch.
The failure to use Gerrard and Lampard properly, and give the idea of a three-man midfield a proper trial, is a damning indictment of the various managers who have tried and failed to steer England to glory over the past decade. They had two of the best midfielders of their generation, and they didn't have the tactical acumen to use them.
Jose Mourinho would not have made the same mistake. If he had managed to lure Gerrard to Stamford Bridge a decade ago (and we know it was a very close-run thing), he would have used the Scouse icon in a midfield three, alongside Gerrard and Claude Makelele, a player so good that they named a position after him.
Makelele, sitting in the middle of Gerrard and Lampard, would have been the perfect foil for the two creative fulcrums alongside him. Gerrard and Lampard would have been free to surge forward, to press high up the pitch, to play those decisive final passes. Behind them, they would have had Fort Knox, a player who was 100% reliable and disciplined, who was prepared to sweep up and give them the ball when they wanted it.
With this combination, Chelsea would have won far more than the three league titles they had managed until the start of this season. They would have established an era of dominance, and won the Champions League earlier. Mourinho would have given Gerrard added discipline, told him to focus on his strengths and conserve his energies, and made him an even more effective player.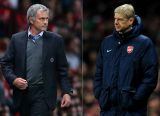 If the pre-match hype was to be believed, Arsenal were the team that needed to win the game when they played Chelsea at the Emirates. So why did Arsene Wenger not show more ambition?'
Read Jason's take on the Arsene Wenger-Jose Mourinho 'boring' debate here.
For Chelsea fans, it's a shame they never got to see the Gerrard-Lampard combination deployed by a manager who was sufficiently competent to maximise them.
As it is, of course, Gerrard's Premier League career is at an end. He is arguably the greatest player, and certainly the greatest English player, of his generation never to win a league title. Even his teammate Glen Johnson, a player blessed with just a fraction of Gerrard's talent, achieved the feat during his time with Chelsea.
But then we can't really accuse Gerrard of lacking ambition, of wasting his talent, or any of those other barbs which are often aimed at him. There's something about playing for your hometown club that's extremely alluring for footballers, even in today's gilded era, which showers its star performers in cash. Alan Shearer, of course, turned down Manchester United to play for Newcastle, and I doubt he'd swap all the medals he could have won at Old Trafford for the adulation he received at St James's Park. Gerrard will be the same.
The capitulation of QPR yesterday showed there are far too many mercenaries stealing a living in modern football. And yet when someone like Gerrard makes a career choice based on principle rather than paycheques, we condemn them for being meek, complacent, or worse. You can't have it both ways.
United need five players (and that's a conservative estimate)
Manchester United were scrappy once against Crystal Palace, but once again, they found a win. Now they're in the top four and when you consider the turmoil they endured under David Moyes last season, and the disruption they have endured under David Moyes, that's got to count as a success.
But United's board, management, players and fans all know major surgery is needed. I reckon they need five players: a right-back, a centre-back, a midfielder and two strikers. And that's assuming David De Gea decides to stay.
If you were being super-critical (or ruthless, depending on your state of mind) you'd say they need two new centre-backs, and
two strikers. So the number of players required rises to seven or eight.
United have got their recruitment wrong for years. The signings they have made just haven't worked, and there's been more money wasted this year: none of the signings made last summer has become a guaranteed first-team starter, and Daley Blind's limitations were exposed against Palace.
You might argue United should get canny and try and sign an older player, a Xavi or an Andrea Pirlo, to shore things up next year. The fact that Xabi Alonso is still performing at the highest level after swapping Real Madrid for Bayern Munich demonstrates that there is plenty of value in the market if you go for a high-class player with experience.
But I think United need to rebuild with youth. They need to identify the best young talent out there and forge a new squad. Someone like Harry Kane, as I've said before, would be perfect. That's the calibre of player they require. Van Gaal has made significant strides this season and, with the right transfer strategy in the summer, he can turn United into a force again.
Jason Cundy was a hero at Stamford Bridge as a no-nonsense centre-half during the early 1990s. Today he presents the popular Sports Bar radio show on Talksport, and you can find out more about his work with the station here.
He also commentates on Chelsea games for Chelsea TV, working with fellow IBT columnist David Chidgey,and is a prolific member of the Twitterverse.