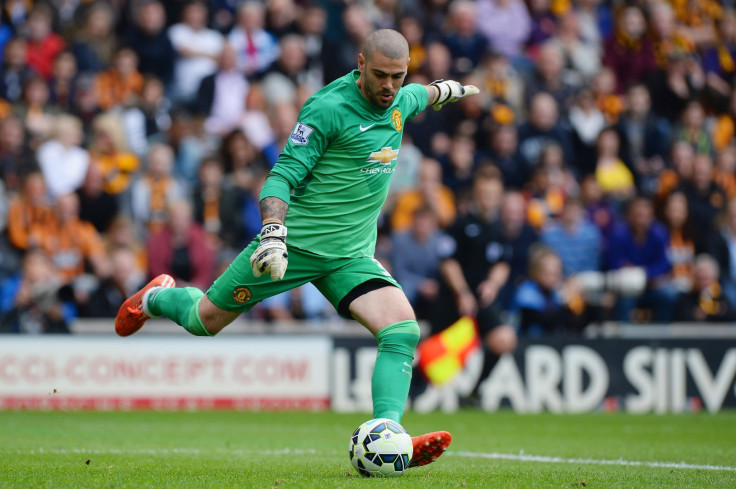 Victor Valdes has been included by Manchester United in their finalised squad for the 2015/16 Premier League campaign, but Tottenham manager Mauricio Pochettino has chosen to exclude struggling striker Emmanuel Adebayor entirely from his 25-man group that cannot be revised until January at the earliest.
Back-up goalkeeper Valdes has endured a difficult summer at Old Trafford. After not being considered for the squad that failed to retain their International Champions Cup title in the US during preseason amid transfer interest from ambitious Super Lig outfit Antalyaspor, the 33-year-old then became embroiled in a bitter public feud with Louis van Gaal following accusations that he refused to play for the U21 side last season.
With seemingly little prospect of reconciliation on the cards between two men who also clashed at Barcelona in 2002, it was expected that the player would leave the club after just eight months prior to the recent transfer deadline. Interest in his signature did not appear widespread, however, and a potential move to Besiktas collapsed at a very late stage following the club's decision to pull out of the agreement.
The saga involving Valdes' future has paled in comparison to the one involving compatriot and teammate David de Gea's botched transfer to Real Madrid, but both men are included in Van Gaal's 21-strong party alongside the unconvincing Sergio Romero and young rival Sam Johnstone.
All 20 top-flight teams have now completed and submitted their final squad lists. As expected, Tottenham outcast Adebayor, who has not even been assigned a squad number this term, stands out as the most notable absentee having failed to secure a move away from White Hart Lane and also been left out of Pochettino's selection for the forthcoming Europa League group stages.
West Brom, meanwhile, have decided to include Saido Berahino despite the striker threatening on social media never to play for the club again following their decision to reject four bids from Tottenham for his services despite him having made his desire to leave unmistakably clear with the submission of a transfer request.
Like Adebayor, Liverpool full-back Jose Enrique has not been registered for Europa League duty but has made Brendan Rodgers' domestic squad despite not featuring in a Premier League contest since January and appearing to have fallen down the pecking order at Anfield behind the likes of Joe Gomez and Alberto Moreno. The Spaniard was heavily linked with a move to West Brom during the final stages of the summer window, but later denied receiving any offer and reinforced his desire to regain a regular first-team berth.
For a full list of each confirmed Premier League squad for the 2015/16 season, click here.