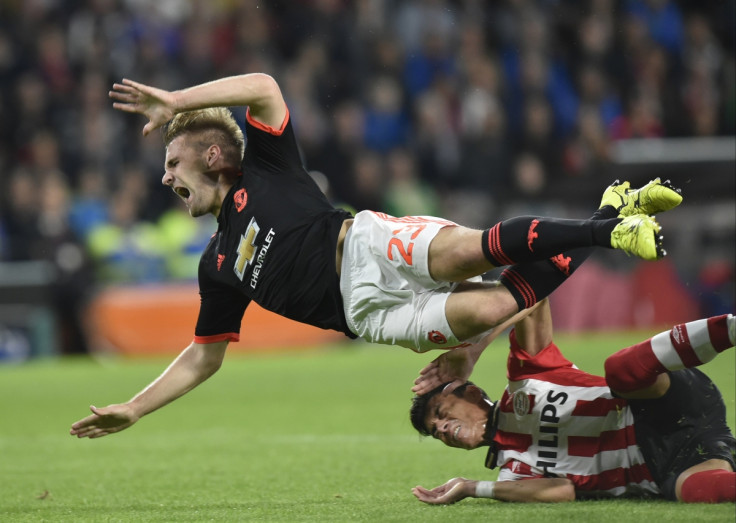 Louis van Gaal has admitted concerns over the left-back situation at Manchester United, as well as his squad's tiredness ahead of the Champions League tie with Wolfsburg on Wednesday (30 September). The Dutch gaffer believes the Bundesliga side have an advantage due to the high physical demands of the Premier League, hinting he may have to rotate his selection.
Manchester United returned to the top of the Premier League for the first time since Sir Alex Ferguson's retirement at the weekend, seizing on Manchester City's slip at Tottenham with a 3-0 victory over Sunderland. Van Gaal seems to have settled on an attack system formed by captain Wayne Rooney, Juan Mata and summer signings Memphis Depay and Anthony Martial.
But LVG is less blessed in defence, with the serious injury to Luke Shaw and the knock sustained by Marcos Rojo in the game with Southampton leaving him with no specialists at left-back. Mateo Darmian has been played out of position on the left, with Antonio Valencia covering the Italian on the right side.
Van Gaal suggested that this situation was exacerbated by the demands of the Premier League, indicating a need to make changes for the Champions League tie, despite a disappointing start to the campaign with their 2-1 loss at PSV Eindhoven earlier this month.
"The Premier League is a very difficult league. To beat your opponent every week is not easy, it is always a struggle and a battle. Then you have to play again mid-week in the Champions League and that is the difference between all the clubs in Europe. It is not predictable to say four teams in the Premier League shall overcome this group stage round, no, it is not like that. But I have to say that we have the teams to do it and we have the quality to do it, " he said to the club's website.
"The difficulty is that all these players are in a rat race and that takes a lot out of the players, which is why you have to rotate and that is what I am doing now because I have to protect my players. I am unlucky because I have only one position that is not doubled and that is the position from Luke Shaw, but I had a double because I had Blind and I had Rojo. But now who is injured? Rojo!
"Rojo has not played so much. He has trained for three or four weeks very hard, then he played for Argentina for 70 minutes, 50 minutes against Swansea City and then 70 minutes in the last match at Southampton. It was a very good building up but he is injured; that is unlucky. We can solve the problem with other players but not a specialist like Shaw. Blind is not the specialist. Rojo is more of a specialist because he plays that position for Argentina, which is why he played the last time there. The left full-back position demands more of the capacity of a player."
Wolfsburg are fourth in the Bundesliga after a home draw with Hannover at the weekend. Van Gaal, however, believes that they are not involve in a "rat race" for the title as Manchester United are.
"I say we have to play Sunday-Tuesday, Sunday-Wednesday, so between the matches we cannot recover all of the tiredness. Then we have to play against a European squad who is willing to give everything against us. They don't have a rat race in their competition and that is the difference."